Oppo announces Find 5 with quad-core processor and 1080p display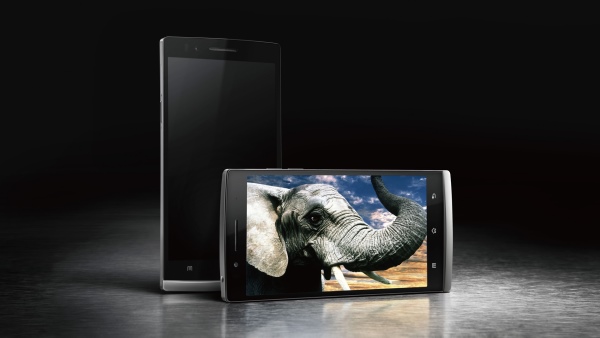 If you haven't heard of Oppo before, I don't blame you. Awareness of the company's existence in mature Western mobile markets is practically nonexistent. However, that hasn't stopped the Chinese manufacturer from announcing the Find 5, a surprising smartphone coming to the US market shortly.
Oppo's handset features specs that rival those of HTC's Butterfly (or DROID DNA as it is known in the United States), which is rather impressive. The Find 5 sports a 5-inch display with a resolution of 1920 by 1080 and a 441 ppi density. Power comes from a quad-core 1.5GHz Qualcomm Snapdragon S4 Pro (codename "APQ8064") processor backed by 2GB of RAM and an Adreno 320 graphics card. The smartphone's 2500mAh battery though is larger than the one found in the Butterfly/DROID DNA, which comes in at only 2020mAh.
The handset also comes with 16GB of internal memory, which seems rather limited for today's larger apps, music and videos. The missing microSD card slot from the spec sheet is also worrying.
The Find 5 features a 13MP back-facing camera with f/2.2 aperture and HDR mode. On the front there's a 1.9MP shooter, capable of recording video at 120FPS. However, "capable" does not mean the camera will actually shoot videos at 120FPS, so take that with a grain of salt.
On the connectivity front, the smartphone comes with: HSPA+, Wi-Fi 802.11 a/b/g/n (on 2.4GHz as well as 5GHz); Wi-Fi Direct; Bluetooth; NFC (Near Field Communication); GPS; DLNA. Other features include a gyroscope, digital compass and light or proximity sensors to name a few.
The smartphone is compatible with 3G networks running on the 850, 1700, 1900 and 2100MHz bands, while on EDGE it works on 850, 9100, 1800 and 1900MHz bands.
The Find 5 will ship with Android 4.1 Jelly Bean out of the box, though whether Oppo will add its own customization on top or keep it stock is unknown at the moment. Pricing is currently set at $499, with availability to start in "early 2013 across selected markets".