HTC announces Butterfly -- 5-inch 1080p display and quad-core power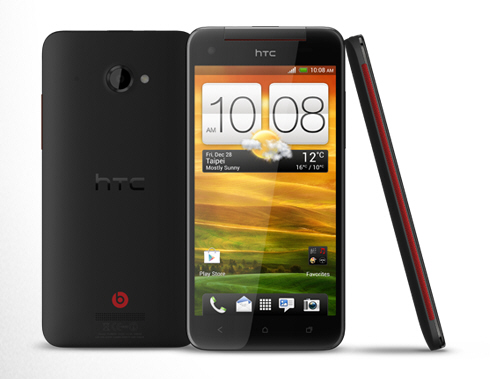 Nearly two months ago HTC teased Android enthusiasts with the J Butterfly, but sadly the handset was only for the Japanese market. On Friday, the Taiwanese manufacturer introduces the global variant, simply dubbed Butterfly, sporting similar specifications.
The Butterfly features a 5.0-inch SuperLCD 3 display with a 1920 x 1080 resolution. Power comes from a 1.5GHz quad-core Qualcomm Snapdragon S4 processor paired with an Adreno 320 video card and 2GB of RAM. On top of the 16GB of internal storage, the Butterfly has a microSD card slot which can extend the capacity by an additional 32GB. HTC is, however, evasive when it comes to the operating system, but it's fair to assume that it ships with Android 4.1 Jelly Bean, similar to the Droid DNA and J Butterfly.
The handset features an 8MP back-facing camera with auto-focus, LED flash and BSI sensor that is capable of 1080p video recording. On the front the Butterfly delivers a 2.1MP camera, although according to HTC, 1080p video is only available during video chats.
On the connectivity front the smartphone comes with HSPA; Wi-Fi 802.11 a/b/g/n; Bluetooth 4.0; DLNA; a microUSB 2.0 port; GPS with GLONASS support; digital compass and a 3.5mm audio jack. The Butterfly also has an ambient light and proximity sensor; accelerometer and gyroscope.
The handset features a non-removable 2020mAh battery which could be considered somewhat small considering the 5-inch 1080p display and quad-core processor that are included in the package. However, according to testing performed on the DROID DNA (with whom it shares most underpinnings) battery life can be considered decent.
Measurements come in at 143 x 70.5 x 9.08 mm, and 140 grams. For comparison the One X+ is close in terms of dimensions and weight, at 134.4 x 69.9 x 8.9 mm and 135 grams, respectively. Bigger, but only slightly. Again, not bad for a 5.0-inch display.
HTC gives nothing away when it comes to a launch date and price for the Butterfly. However, judging by the time it took the Taiwanese manufacturer and Verizon Wireless to launch the Droid DNA after the announcement, the Butterfly may well arrive fairly soon.
As HTC is not in the best financial standing, handsets such as the Butterfly could help the company recover and put it in a better position to fight off upscale competitors such as Samsung's Galaxy S III or LG's Optimus G.