LaCie shows small business some CES love with 5big NAS Pro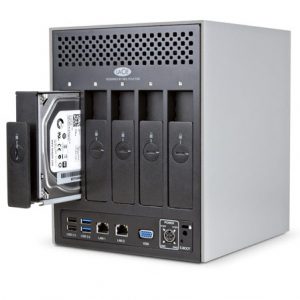 While the Consumer Electronics Show is mostly about gadgets for your home, there's more to it. Unfortunately, devices that are more functional, as opposed to flashy, tend to fly beneath the radar. That means that good, useful equipment, that we will actually see on the market before CES 2014, does not get the attention it deserves.
That is the case with a new LaCie network attached storage device designed for small businesses. The company today announced its 5big NAS Pro, a device that brings some new functionality to the product line. According to LaCie, the new NAS will have what it describes as "True Hybrid Cloud". This will use the company's own cloud storage, Wuala, and display both network and cloud storage in one view. This means one interface for both users and administrators, which is especially important on mobile.
The company also promises several RAID modes to choose from as well as what it terms as "formidable security", although details on what exactly that means are left rather vague. If you did not guess, of course the "5" in the name alludes to the amount of drive bays available. The device will work with Genie Backup Manager Pro on PC or Genie Backup Manager Pro for Mac. Both include 3 licenses.
Unlike many of the products you will see plastered all over the web this week, this one actually has shipping and pricing details. LaCie will make three models available "this quarter" -- 0 TB, 10 TB and 20 TB. Prices start at $549 and go to $2,199, and customers will get a 100 GB free trial of Wuala cloud storage.