Holy post-PC era! Tablet shipments will surpass laptops this year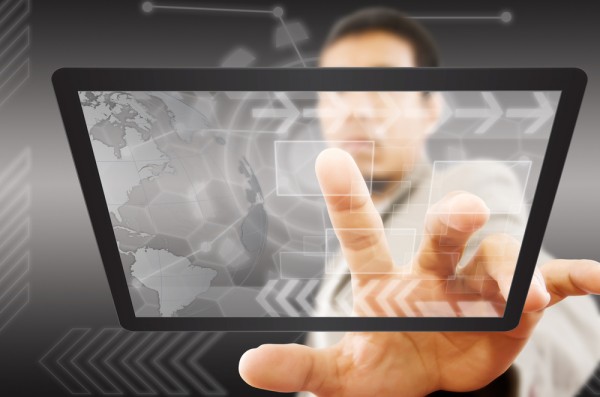 Quick, send a load of Valium to Intel and Microsoft executives! Gasp -- to Apple, too. Today NPD DisplaySearch forecasts that tablet shipments will exceed notebooks in 2013, globally. But in China and the United States, the milestone passed last year.
About 18 months ago, analysts started the smartphone-shipments-are-greater-than-PCs meme, which I didn't take too seriously. The market dynamics are different and handsets' functionally don't replace personal computers. Tablets are a whole other matter, because they can do just that. The category's rise over laptops is hugely significant.
Suddenly Steve Ballmer's symbolic computing era hand-off means much more. The man who this year gave up the Consumer Electronics Show keynote stage made a surprise visit there last night, effectively handing the baton to Qualcomm's chief executive. Microsoft represents the PC era, while Qualcomm does the cloud-connected device successor. DisplaySearch's forecast is timely.
Already, tablet shipments slowed those of laptops last year -- according to DisplaySearch's report, "increasing tablet PC adoption is stymieing notebook PC growth". The trend's impact is perhaps greatest in emerging markets, where notebooks had the most headroom for sales growth.
"In 2013, further investments are expected worldwide, stoking demand to the point that tablet PC shipments will exceed those of notebook PCs", Richard Shim, DisplaySearch senior analyst, says.
The analyst firm forecasts that 240 million tablets will ship this year, compared to 207 million laptops. The change represents more than just a computing era transition. Notebooks have long remained the PC segment with highest margins, even as average selling prices collapsed over the last 18 months or so. Additionally, changes in the applications ecosystems -- and where (or where not) developers make money -- and shift to the cloud will accelerate their disruption of the traditional PC ecosystem.
That wouldn't be the case if, say, traditional PC platform Windows 8, accounted for the sudden surge in tablet shipments. Surely that's what Microsoft hopes for, and Ballmer couldn't say enough about Windows slates last night. Rather, smaller form factors, with 7-to-8 inch screen sizes, rapidly rise. Larger Windows 8 slates, typically 10.1 to 11.6 inches, make up a smaller growth segment.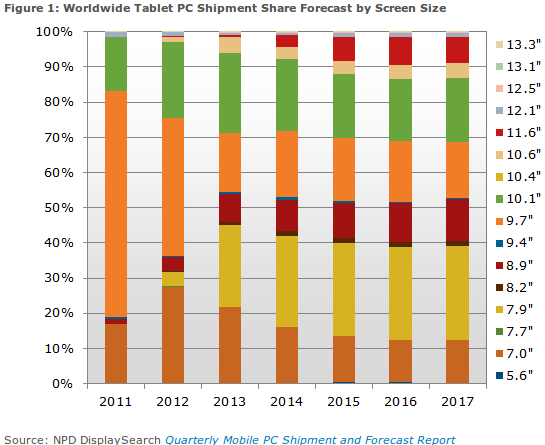 "The tablet PC market saw increasing investments in North America in the second half of 2012, from major brands that tested not only new screen sizes and price points, but also unconventional business models to support their efforts", Shim says. "The subsequent increase in shipments and demand underscored the benefits of segmentation in the market as it drove rapid market expansion".
This shift to smaller slates promises to disrupt Apple's tablet category dominance. DisplaySearch expects these smaller slates to account for 45 percent of shipments (108 million units) compared 17 percent (41 million) for 9.7-inch tablets. There are only two major global manufacturers producing that size - Apple and Sony.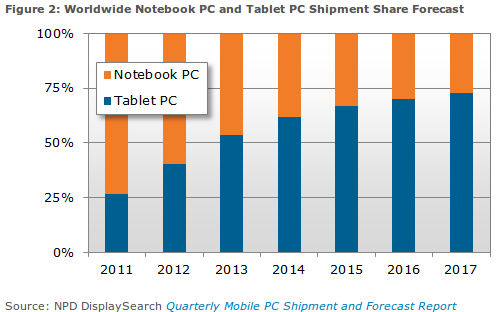 That 17 percent share is hugely significant, because of the implications for Apple, which has been the overwhelming tablet market share leader. If DisplaySearch's forecast is accurate -- and it might not be in a fast-changing category -- Apple's reign may be shorter-lived than previously predicted and the company acted wisely releasing iPad mini in late 2012.
China and the United States will continue to be the two strongest markets with 27 percent and 35 percent global share, respectively, this year. But it's secondary markets, where smaller screen sizes and various manufacturers (meaning not just Apple), that will shakeup the category.
Overall, tablet shipments will rise 64 percent year over year in 2013, according to DisplaySearch. If the numbers are right, the two companies looking to benefit from the transition, Apple and Microsoft, look like losers. Microsoft is more so, having nothing to offer in the 7-to-8 inch category. Apple is sure to see a shift to lower-margin iPad mini, while ceding market share, perhaps lots of it, to competitors.
Photo Credit: Ohmega1982/Shutterstock