Sprint and Verizon to introduce new Windows Phone 8 devices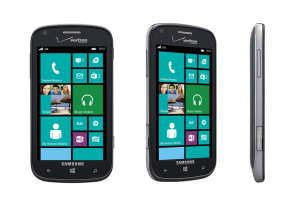 Microsoft may have pulled out from CES 2013, leaving Qualcomm to steal the spotlight with its opening keynote presentation, but the firm's smartphone operating system lives and breathes at the popular trade show. US carriers Sprint and Verizon Wireless unveiled plans to offer new devices running Windows Phone 8, with the big red being the first of the two to release a product to market with the Samsung ATIV Odyssey.
For quite some time the ATIV Odyssey was rumored to surface as a Verizon-branded version of the ATIV S, but that couldn't be further from the truth. The new device comes with a 4-inch Super AMOLED display with a resolution of 800 by 480, a 5MP back-facing camera capable of 1080p video recording and a 1.2MP front-facing camera. The handset is powered by a 1.5GHz dual-core Qualcomm Snapdragon S4 processor and a 2,100mAh battery.
Other features include support for 4G LTE data speeds using Verizon's network, and a modest 8GB of internal storage aided by a microSD card slot that can be used to extend the storage capacity by a further 64GB. Samsung also bundles a number of branded apps such as Mini Diary, Now and Photo Editor. The big red revealed that the ATIV Odyssey will be available "in the coming weeks".
Sprint on the other hand is more secretive compared to Verizon, and has only provided a glimpse of its future plans. The third largest US carrier revealed that it will offer two Windows Phone 8 devices, one from HTC and the other from Samsung, "by summer" -- suggesting that both devices will be available towards the end of the second half of 2012.
Interestingly enough, Sprint says that it has "joined with Microsoft to announce the upcoming availability of Windows Phone 8 smartphones" yet the software giant states that the US carrier "didn't provide any other details on the phones", hence the lack of solid information. That said, it's rather difficult to imagine that Sprint hasn't kept Microsoft into the loop, especially if it's a joint announcement.
Sprint itself does provide some vague details as to the specifications of the two handsets. Both the HTC and Samsung Windows Phone 8 smartphones will include support for the carrier's 3G and 4G LTE network, dual-core processors and expandable memory. Basically that rules out the HTC Windows Phone 8X, which does not feature expandable memory, and suggests mid-range HTC handsets instead.