Microsoft's stealth presence at CES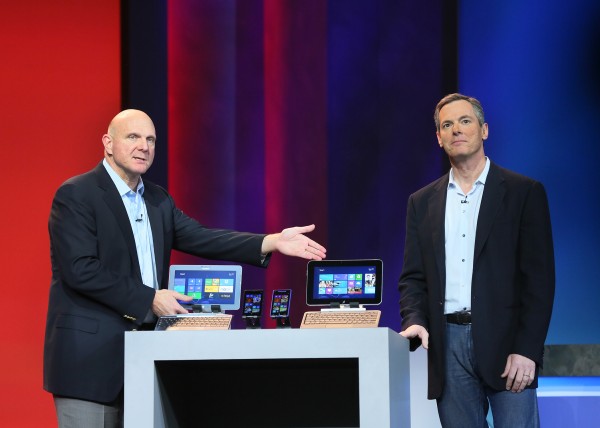 Microsoft pulled out of the Consumer Electronics Show in Las Vegas for 2013 and beyond. Maybe. Maybe not so much. The company was not entirely absent and some of the presence was not even stealthy. It started with CEO Steve Ballmer's surprise appearance on stage during the pre-show keynote address -- an event that Microsoft once owned, but this year belonged to Qualcomm.
In the middle of the presentation Ballmer walked on stage and proceeded to, not only endorse the Snapdragon chips, but to also show off some Windows Phone 8 devices and Windows 8 tablets. It may have seemed like a passing of the torch from the old guard to the new, but the Redmond, Wash.-based company did not stop there. Oh no.
The company also had a presence during the Samsung presentation, where it took the opportunity to show off IllumiRoom, an upcoming enhancement to Xbox and Kinect that completely immerses you in the action. Do not get out your wallet yet -- this one is likely rather far from the market. Again, though, this was not very stealthy.
What you may not have heard is that Microsoft had a room at CES where it was quietly showing off the Surface Pro tablets. You know, the ones that are not on the market yet? The version that is rumored to be coming towards the end of this month? Yes, that version of the Surface.
The demos did not make big news, but if you paid close attention then you learned that Microsoft was holed up in a back room showing off the Surface Pro to a lucky few. While impressions were largely good, we will need a bit of time for the actual release to get impressions from the real world.
The company also was front and center on the show floor -- right in plain view. No, its booth was not there, but its touch could be seen everywhere -- Windows 8 computers and tablets and Windows Phone handsets.
Perhaps Microsoft really does not need a booth and a keynote address anymore to command the Consumer Electronics Show. Perhaps it has the whole thing on autopilot now and a guest shot here and there is more than enough to steer the ship in the direction it wants it to go.
Photo Credit: CES