Ding, dong, the PC's dead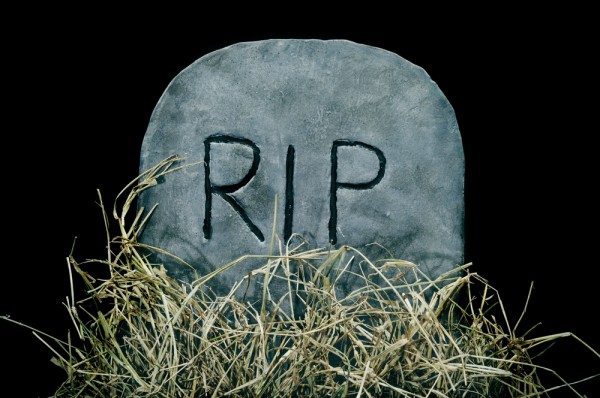 So much for that Windows 8 pick-me-up. The PC market got no 5-Hour Energy lift during fourth quarter. If anything, the personal computer is out of shape and out of breath, and no Microsoft personal trainer can change that. Gartner calls the current crisis -- and it is for the WinTel and MacTel folks -- a "structural shift". The tablet is the slimmer and shapelier alternative, and it kicks the PC's ass all over the work-out floor.
"Tablets have dramatically changed the device landscape for PCs, not so much by 'cannibalizing' PC sales, but by causing PC users to shift consumption to tablets rather than replacing older PCs", Mikako Kitagawa, Gartner principal analyst, says. "Whereas as once we imagined a world in which individual users would have both a PC and a tablet as personal devices, we increasingly suspect that most individuals will shift consumption activity to a personal tablet, and perform creative and administrative tasks on a shared PC. There will be some individuals who retain both, but we believe they will be exception and not the norm. Therefore, we hypothesize that buyers will not replace secondary PCs in the household, instead allowing them to age out and shifting consumption to a tablet".
Tablets Rule
Stop here and reread her statement. Not again but three times. People with PCs and tablets "will be exception and not the norm". Hell, I'm practically there myself. Soon as I get a good-enough Bluetooth keyboard, I will start using Google Nexus 10 as my primary PC -- to see if tablet-only really is viable. Already, the slate, along with Nexus 4 and Nexus 7, replaces about two-thirds of my computing time. But that's topic for another day.
Windows 8 was supposed to salvage an already down year of PC shipments. If the operating system couldn't, nothing can.
"The PC market continues to face many headwinds", Ranjit Atwal, Gartner research director, warns. "The launch of Windows 8 had no impact on PC demand, especially as Ultramobile products were both limited in supply, as well as being priced too high. The holiday season mostly saw retailers clearing Windows 7 notebook inventory or driving volume of low-end notebooks".
But there's more to it. Gartner's position is fundamentally changed about the PC's future, which looks less likely long lived. The pattern now is that of the mainframe. Those businesses, and increasingly small number of consumers, that need big computing will keep PCs. But even then, their role will diminish as the market shifts to people using several contextually relevant, cloud-connected devices. There is a silver lining. "While PC volumes will decrease, average selling prices -- and margins with them -- will rise, Kitagawa predicts, "as users replace machines used for richer applications, rather than for consumption".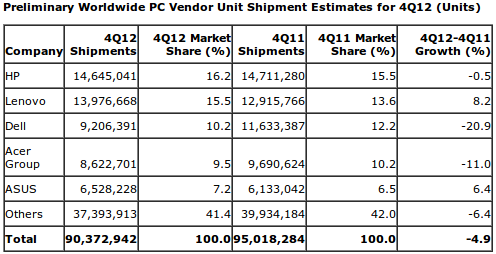 "The increasing choice of tablets at decreasing price points no doubt became a favorite Christmas present ahead of PCs", Atwal says. IDC says that holiday PC shipments declined for the first time in five years and blamed manufacturers as much as increasing tablet interest, if not more.
"Consumers expected all sorts of cool PCs with tablet and touch capabilities", David Daoud, IDC research director, says. "Instead, they mostly saw traditional PCs that feature a new OS (Windows 8) optimized for touch and tablet with applications and hardware that are not yet able to fully utilize these capabilities".
By the Numbers
During fourth quarter, PC shipments fell 4.9 percent year over year, according to Gartner. For all 2012: down 3.5 percent. Manufacturers shipped 90.3 million and 352.7 million units for the respective time periods. IDC offers grimmer perspective: PC shipments fell 6.4 percent for Q4 -- two points more than forecast -- and 3.2 percent for the year.
After several quarters of shipments falling faster than the global market, the United States went from worse to bad: Down 2.1 percent, according to Gartner, and 4.5 percent by IDC's reckoning. The difference reflects some Windows 8 lift, but also respectable Mac sales -- up 5.4 percent and down 0.2 percent, according to Gartner and IDC, respectively.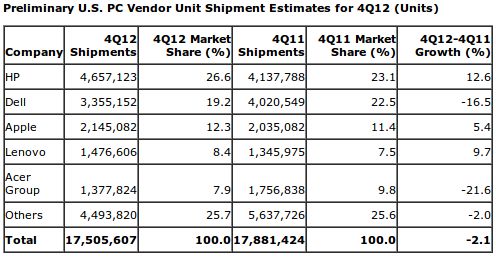 Jay Chou, IDC senior research analyst, still sees hope ahead: "As Windows 8 matures, and other corresponding variables such as Ultrabook pricing continue to drop, hopefully the PC market can see a reset in both messaging and demand in 2013".
By contrast, Kitagawa contends that a seismic and permanent shift started in late 2012 with the "availability of compelling low-cost tablets" and "will continue until the installed base of PCs declines to accommodate tablets as the primary consumption device".
Last week, NPD DisplaySearch forecast that this year tablet shipments will surpass laptops for the first time. Gartner's sudden turnabout about the PC's future and the forecast resonate.
What about you? Did you get a new tablet this holiday? Instead of a new PC?
Photo Credit: Nito/Shutterstock
Data Tables: Gartner