MediaFire cloud storage app comes to Android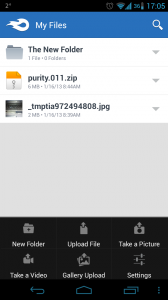 The words "free" and "50GB of cloud storage" don't often come together in the same sentence, so when the company announced the mind-boggling offer there was only one question on my mind: "When's it coming to Android?" Well, good things come to those who wait! After an almost five-month hiatus, MediaFire arrived on green droid land.
So what's it like? Well, straight off the bat MediaFire for Android "features" a major flaw -- users cannot sign up for the cloud storage service using the app. That's an inconvenience seeing as, for instance, Box or Dropbox do sport the basic functionality. That said, the app does have some interesting features starting with the camera options.
Users can choose to take a picture or shoot a video straight from MediaFire, press a button after they're done and upload the newly created content straight to the cloud, without going through various menus. Sadly though, the feature is limited to only one picture or video at a time which, again, is inconvenient.
Another issue, but more concerning, relates to uploading content from the Gallery app. After pressing the Share button, MediaFire is nowhere to be seen and cannot be therefore selected to upload pictures or videos. So how can one upload content to the cloud? Well, you'd have to solely use the app for that. There's another problem -- users can only upload one item at a time.
While that's fine for casual use, it really puts a dent on backing up multiple files. From my point of view going through, for instance, pictures and videos one by one is not particularly exciting considering MediaFire's biggest appeal -- the immense storage space. Same goes for performing batch operations such as moving or deleting files, an impossible feat for the company's initial foray.
Looking at Dropbox or Google Drive, for instance, one can also easily notice the outdated design, which really has no place in 2013. It's straight from the history books, and nowhere near as good looking as its iOS counterpart. By comparison, the latter looks astonishing. I can only assume that MediaFire deems green droid users as Android 1.5 Cupcake or 1.6 Donut fans.
Luckily files can be shared from MediaFire, and users can also pull out links for uploaded content which should come in handy for collaboration purposes. Also, the app features search functionality and can also open the folder which contains the item using the integrated file menu. Neat, but certainly not mind-blowing.