Twitter's first video tweet shows how to make steak tartare in six seconds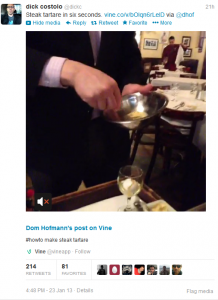 The first video tweet using an app from Vine, the start-up Twitter acquired last year, has appeared on the micro-blogging site. Originally created and sent by Dom Hofmann, co-Founder and CEO of Vine, it was then posted by Twitter boss Dick Costolo and dutifully retweeted by a couple of hundred people.
The embedded video, like all clips sent using Vine, lasts six seconds, and shows the steak tartare creation process -- with optional sound -- in a loop. While this could prove rather maddening if you have lots of Vine clips visible in your stream, it's easy enough to hide away.
The Vine app will be available as an iOS exclusive initially, but an android version is expected to follow shortly afterwards. The recording process is as simple as pressing the screen and then letting go when you're done. Vine will have an Instagram element to it, and let you follow other users and search for clips from people they know.
How Twitter plans to deal with the inevitable deluge of offensive or pornographic clips isn't currently known.
Steak tartare in six seconds. vine.co/v/bOIqn6rLeIDvia @dhof

— dick costolo (@dickc) January 23, 2013
Update: And Vine's just gone live at the Apple Store.