Brilliant! RIM's name is now BlackBerry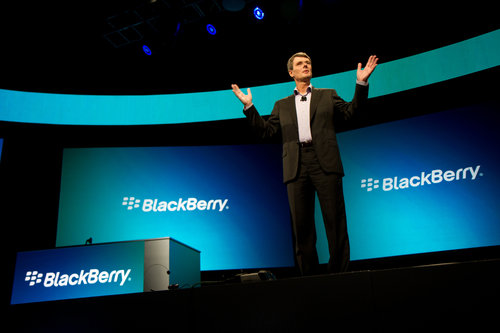 Maybe one head really is better than two. Today during the BlackBerry World keynote, Research in Motion CEO Thorsten Heins made a startling, and quite unexpected, announcement. There's a new name, adopted from the flagship product -- BlackBerry.
Heins replaced co-CEOs Mike Lazaridis and Jim Balsillie a year-ago this month, promising to aright the badly listing RIM. Today, BlackBerry 10 operating system and new devices officially launch, as Heins seeks to deliver on the promise. Apparently, the name change is part of that.
BlackBerry makes much more sense than RIM, for many reasons, brand awareness being high among them. Then there is what BlackBerry represents: Many people identify the name with RIM, and the product line is the company's future -- or failure -- particularly products rolling out today. As a writer, there are headlines I wish to have written. CNN Money's "Inside BlackBerry's last stand" is dead on appropriate.
BlackBerry has fallen hard. In fourth quarter 2009, the device (and now company) commanded 19.6 percent smartphone market share, putting it ahead of Apple (16 percent) and behind category leader Nokia (38.2 percent), according to IDC. Three years later, BlackBerry didn't even make the top 5, with Apple in second place. Nokia didn't place among the leaders, either. Oh, have times changed in so short a time.
Times are as bleak as the weather in Waterloo, Ontario, Canada. Today really marks BlackBerry's last stand.
From a marketing perspective, the company has more than a new name and platform. U.S. President Barack Obama is still BlackBerry-in-Chief. Leader of the free world is by far the most-prominent BlackBerry user. Nine days ago, I asked you if Obama should keep his device. The majority of respondents, 35 percent, answered: "He should upgrade to BlackBerry 10".
Now there's someone Heins really should want on the platform as soon as possible.