Should Barack Obama stick with BlackBerry?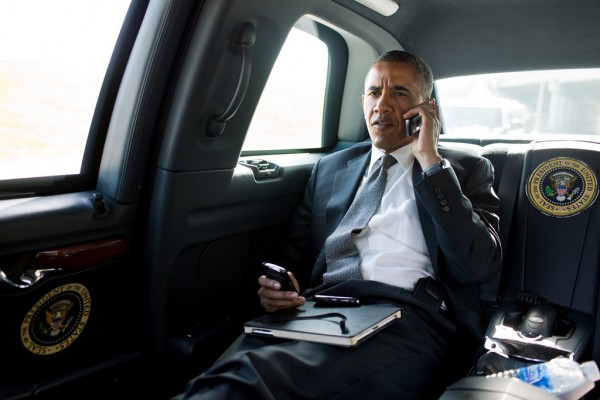 Barack Obama is now officially in his second term as President of the United States, following the January 20 inaugural swearing in. We have another four years of Obama, but does he have another four years of BlackBerry? He is by far the most profile Crackberry, in 2009 fighting to keep his smartphone in the face of opposition. (You think Apple losing that iPhone 4 in a bar was bad? Imagine the president leaving his handset behind.) But Obama is President and Commander-in-Chief and got to keep his Canadian gem.
But it's a new administration, and Obama appoints new cabinet members. Which of them is more important, gets more attention than his smartphone? So the question: Should he stick with BlackBerry or switch platforms?
Hey, with BlackBerry 10 so soon coming, moving up surely is an option (assuming White House security wonks have enough time to vet the OS before the first devices ship). Then there is Android, iOS and Windows Phone. Let's not ignore Firefox OS and Ubuntu, which are newcomers here.
Seriously, fanboys, you should be all over the social networks campaigning for your platform.
Staying BlackBerry is obviously easiest, but iPhone is supposed to be enterprise ready, and the President uses an iPad. Surely Windows Phone is, too. Hey, Microsoft has a special relationship with government.
Then there is Android, which with Jellybean is just about where the security and management features need to be for government service. But with Google kicking Microsoft's ActiveSync to the curb, Android has problems if the Feds use Outlook.
I know that Election 2008 was brutal campaigning. But it's time for another, and you have to campaign for your platform. Think about it. Imagine if you're an Android fanboy who has to live with iPhone idolaters rubbing your nose in the president's choice for four years -- or visa versa, if he joined the Android Army (Mmmm, he is Commander-in-Chief).
So rally for your candidate!
Please answer the poll and comment -- eh, campaign -- for your platform.
I think the President should stick with BlackBerry, as it's more non-partisan.
Photo Credit: Pete Souza/The White House