HP releases the chunkiest Chromebook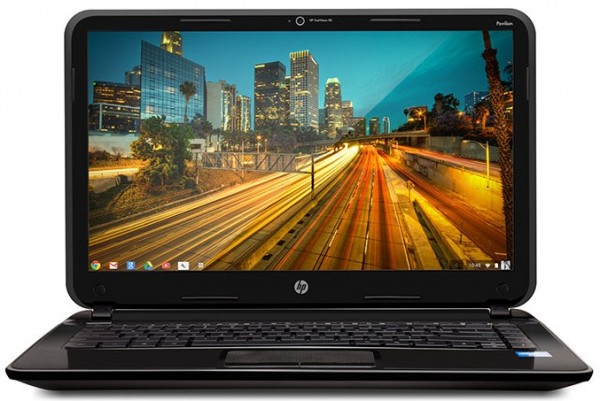 Is it my imagination, or does each new Chromebook get bulkier than the last? Today HP joined the Google operating system family, introducing the heaviest model (1.8 kg/3.96 pounds) with largest display (14 inches). Lenovo's ThinkPad Chromebook, announced in mid-January, is a tad lighter but the Acer C7, with smaller screen, is thicker. Perhaps the problem is this: PC manufacturers adapt low-cal Windows notebooks to Chrome OS; new Acer, HP and Lenovo models are more licensing plays than any attempt to innovate.
For PC manufacturers looking to offer something other than Windows, pay nothing for an operating system or capitalize on Google's bulging brand name, Chrome OS is enticing option. The lack of real investment, which demonstrates no sincere commitment, is wrong way to win or satisfy customers. Samsung proves the better Chromebook partner, by at least making some effort around system design, including adapting ARM processors.
Too Little
Last week, responding to rumors about the HP Pavilion 14 Chromebook, David Hoff posts to Google+: "I'm hopeful manufacturers also cater to the high end/power user segment by providing more than 2 GB of memory. To date, I've not heard of any machines that match the Samsung 550 in terms of performance. I'd like to see a machine with 8 GB of RAM, as my tab sprawl has doubled".
He's right. Simply doubling memory to 4GB makes Samsung Series 5 550 Chromebook much more usable than newcomers. I moved from top-line MacBook Air to the 550 last May and found performance more than adequate. The Series 3 model feels sluggish, by comparison, particularly how Chrome OS refreshes tabs to keep memory from running out. That Chromebook has 2GB of fixed RAM; no easy upgrades, if at all.
If the operating system is free to license, what's a couple bucks more for 4GB RAM? Because the Acer and HP models (presumably the Lenovo, which isn't yet for sale) are based on Windows machines, at least memory is upgradeable, unlike the Samsungs, which I consider to be more pure Chromebooks.
RAM is basic, and misses the bigger problem: real effort by most PC manufacturers to release compelling and original Chromebook designs or to offer beyond basic hardware.
HP Pavilion 14-c010us Chromebook specs: 1.1GHZ Intel Celeron 847 processor; 14-inch LED display with 1366 x 768 resolution; 2GB of RAM (upgradeable to 4GB); Intel HD graphics; 16GB SSD; three USB ports; HDMI port; WiFi N; Bluetooth; Ethernet; and Chrome OS. Weighs 3.96 pounds. Price: $329.99.
The Pavilion 14 Chromebook is based on the Pavilion 14 Sleekbook, which packs, at the base $399.99 price: dual-core AMD processor, 4GB of RAM, 500GB hard drive and Windows 8 64-bit.
Some Google+ posters see the problems I do: "The HP Pavilion 14 Chromebook's bigger screen means heavier weight and poorer batter life", Richi Jennings says. "Also, it's the same actual resolution as its smaller competitors".
Specs underwhelm, while the Pavilion hefts up, without offering real advantages for it. I certainly don't want lesser screen resolution on larger display.
Steve Hall asks the right question: "Doesn't this kinda miss the point of being a Chromebook, then?" Yes, it does. Jeff Dunn shares similar sentiment: "HP joining the Chromebook game, but it seems to me like it's missing the point. Hope I'm wrong". I wish that you were.
Too Late
HP is a big partner for Google to gain, because the OEM is, along with Dell, among the most loyal to Windows. "Looks like more and more manufacturers are fleeing from Windows", Norbert Rittel opines. Brandon Padgett asks: "Who's next?"
Doesn't matter. There is a lot of excitement around Chromebook, which looks like a hit in the making. But same could be said about netbooks four years ago. Numerous analyst firms predicted the portables would easily take 10 percent of PC sales. Now netbooks are virtually gone. Strangely, by the specs, Chromebooks aren't far removed.
I see in Chromebook a similar approach to netbooks: Manufacturers taking a cheapskate approach. Prices and configures underwhelm. But the OS is different and promises much if utilized. OEMs are only good for the platform if they make it more appealing. Instead they are true to character, by offering as little as possible to eke out pennies more margins.
Google really needs to step up the game here, before Chromebook momentum is game over. The market won't sustain these low-powered computers once the excitement wears thin, and it will. PC manufacturers aren't just looking for a free ride, meaning paying no Windows licensing fees. They want to cut component costs to the bone, something they think is possible because of Chrome OS seemingly lighter spec requirements.
Using Chromebooks full-time for nearly 10 months I can attest that more is better. This is a browser running on Linux after all, and it largely depends on life-sucking Adobe Flash for many web apps.
It's time for some Google leadership, which we saw with the first Samsung Chromebooks. The difference is proven. Android tablets were dead on arrival before the search giant took charge on numerous fronts, such as establishing better screen-size standards, relaunching the app market as Google Play and releasing not one, but two, exciting tablets -- Nexus 7 and 10, with partners ASUS and Samsung.
Chromebook looked good going into the holidays, with release of the affordable and slim Samsung Series 3, which packs ARM rather than Intel processor. Somebody put thought into that mobile, which contrasts against the thoughtless models coming from the aforementioned three OEMs.
Chromebook is a seed looking for earth. Google must plant it, water it and nurture it. Otherwise, the Windows 8 storm will someday wash away the crop.