iPhone cracks against the Great Wall of China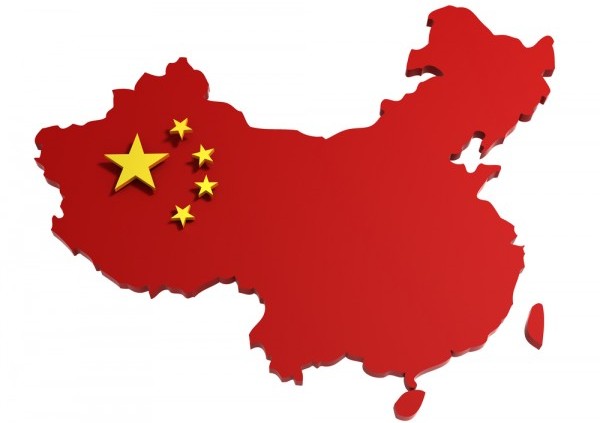 The Chinese smartphone market is dominated by five top manufacturers, none of them Apple, Canalys reveals. As I've warned a couple times recently, despite CEO Tim Cook's prognostications about China's importance or his company boasting 2 million first-weekend iPhone 5 sales, competitors rapidly close out the market for costly fruit-logos.
China is the biggest market for mobiles, largely dominated by smartphones -- 73 percent of the total in fourth quarter, up from 40 percent a year earlier. Shipments soared 113 percent to 64.7 million units, or 30 percent of all smartphones globally. Samsung captured the top spot, followed by Lenovo, Yulong, Huawei and ZTE.
Losing China
"China is a massive growth prospect, but Apple is not making the market share impact there that it is in other markets", Nicole Peng, Canalys China research director, says. "The lack of a device on the China Mobile network is a big drawback, combined with high price points. Addressing these issues with the combination of a TD-SCDMA device and a cheaper model would open the flood-gates".
China accounted for 13 percent of all Apple revenues during calendar fourth quarter. Referring to sales following iPhone 5's release, "we saw our highest growth in China and it was into the triple digits, which was higher than the market there", Cook says (during last month's earnings call). More broadly: "It's clear that China it's already our second largest region as you can see from the data that we have given you and it's clear, there is a lot of potential there".
Yes, but iPhone is the big revenue generator, and the handset faces increased -- and fast-growing -- competition mainly from Chinese phone manufacturers, many of which ship Android devices.
Lenovo was the quarter's big gainer. Shipments grew 216 percent year over year, but mostly to the one country. "China made up 98 percent of Lenovo's shipments with a handful of emerging markets making up the rest", Jessica Kwee, Canalys analyst, says. "Its struggle to gain a foothold in markets outside of China means that it may be forced down the acquisition route -- as it was with its PC business -- hence the speculation about BlackBerry".
Holding the World
Globally, Asian manufacturers, mainly from China, dominated the top-5 during Q4. But there, Apple made strong showing, lifted mainly by more mature markets like the United States where smartphone saturation slows sales compared to many other geographies. Samsung led, followed by the fruit-logo company, Huawei, ZTE and Lenovo. Samsung's lead is solid but tenuous, with 29 percent share to Apple's 22.1 percent. But the Others category, which includes white-box makers shipping Androids to China and other emerging markets, was larger, with 34.5 percent share.
Smartphones accounted for 49.4 percent of all handset shipments -- 216.5 million and 438.1 million, respectively.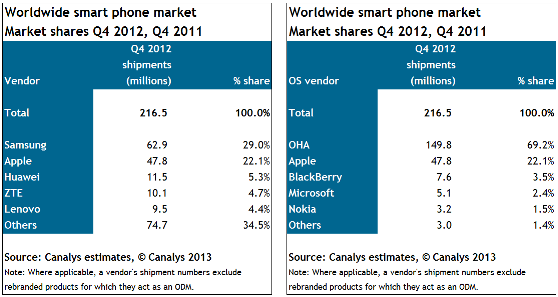 Android shipped on 34 percent of all handsets during fourth quarter, according to Canalys, compared to 11 percent for iOS. The number is greater for smartphones (69.2 percent). However, the green robot lost share sequentially, from 74 percent, largely due to iPhone 5's strong first-full quarter of sales. Share of Apple's mobile operating system rose to 22.1 percent from 15 percent quarter on quarter.
"When we look at the whole of 2012, Nokia remained the number three smartphone vendor, shipping 35 million units, but Apple in second place shipped 101 million more handsets", Pete Cunningham, Canalys principal analyst, says. "First-placed Samsung shipped 74 million more than Apple -- the gaps are colossal. But there is still a big opportunity as smartphone penetration increases around the world".
He emphasizes: "Vendors left in the wake of the top vendors must at the very least improve their portfolios, time-to-market and marketing, as well as communicate their differentiators. Microsoft, BlackBerry and other new OS entrants, such as Mozilla, must make the OS switch as simple as possible and drive and localize their respective app and content ecosystems".
Photo Credit: Alex Wolf/Shutterstock