Microsoft cancels Surface Pro launch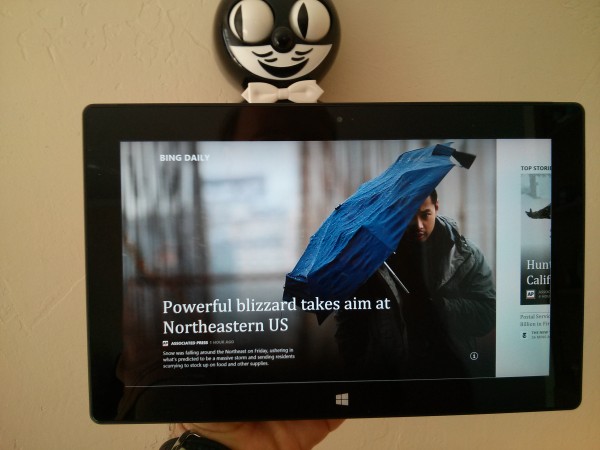 I should say the big launch event planned for New York City. Can you say bad weather? In October Hurricane Sandy sandbagged (absolutely no pun intended) Google's Nexus device unveiling, also in the Big Apple. The search giant announced products anyway. Likewise, Surface Pro sales will go on, in stores around Canada and the United States and online.
"Surface Pro launch activities in NYC have been cancelled due to weather; our best wishes for everyone impacted by the blizzard," a Microsoft spokesperson tells BetaNews. Surely there's a metaphor here somewhere. What Microsoft's top brass must want -- desperately hope for on knees with hands clasped high -- is a blizzard of Surface Pro sales. A storm of people rushing into stores or pounding keys online to buy one of the two models, 64GB ($899) and 128GB ($999). If we were all characters in a novel, the blizzard would foreshadow future events -- or so Microsofties can only hope.
In the Shakespearean tragedy version, however, the blizzard symbolizes the gods' wrath. CEO Steve Ballmer's flaw is ego, and he fires Windows 8 head honcho Steven Sinofsky only to have Surface go all to hell in the end sans his leadership. Ballmer is lost in a whiteout -- having gone to the City for the launch event -- and isn't seen again until 2087, when construction unearths his remains.
In the real world, the product has a leader, Panos Panay, corporate vice president, who says that the "launch of Surface Pro marks a pivotal moment". That's an understatement, because Microsoft has so much hinging on the touchscreen tablet's success. I agree with company executives whining about the lineup of Windows 8 PCs for the holidays. Few really excited (honestly, none for me).
Surface Pro is a new beast -- a little of this and a little of that, tablet, laptop and sketchpad. The tablet could be the defining Windows 8 device, although I struggle to comprehend why cold, wet or snowy February is the right month to launch in this hemisphere.
Surface Pro shouldn't be confused with sibling RT, which price starts at $499. "Surface family, customers will be able to choose a combination of devices that best suit their needs: Surface Pro, which provides the power and performance of a laptop in a tablet package, or Surface RT, which offers the convenience of a tablet with some laptop capabilities so you can get things done", Panay says.
The tablet coming February 9 competes with Windows ultrabooks and MacBook Air, and runs Windows 8 Pro on an Intel Core i5 processor. The other uses ARM architecture, starts at much lower price ($499) and competes with tablets like iPad and Nexus 10.
Americans and Canadians can buy Surface Pro from one of Microsoft's nearly 70 permanent and pop-up company stores or Best Buy. Also: Future Shop north of the border and Staples south of it. Just in time to swoon sweethearts, Surface RT sales expand to Austria, Belgium, Denmark, Finland, Ireland, Italy, Luxembourg, the Netherlands, Norway, Portugal, Spain, Sweden and Switzerland on Valentine's Day.
Three limited-edition Touch Covers go on sale as well, in cyan, magenta and red, for $129.99 each. A Surface wedge mouse sells for $69.95. Additionally, Microsoft adds a new Windows RT SKU, 64GB for $599 without keyboard cover.
If you haven't read my Surface Pro first-impressions review, please do -- and watch for a follow-up story today about who should (or shouldn't) buy the tablet.
As for that pesky blizzard, I've seen several weathermen compare this one to the colossus of February 1978. I remember that one well. The university closed for the first time in seven years, for weather. Guys jumped out from my dorm's second-story windows into snow banks. Buddy and I hitched rides on slow driving cars, hanging off back bumpers and sliding our shoes on the snowy road. I got a reprieve on two exams because of that storm.
Photo Credit: Joe Wilcox