Chubby Checker sues HP over penis size app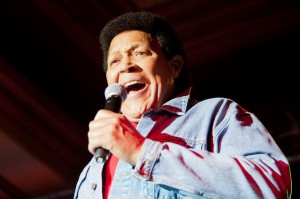 A few weeks ago I wrote about Apple allowing a member-measuring app into the App Store (which BetaNews readers seemed to love) and now news reaches us that veteran singer Chubby Checker has got his knickers in a "twist" and is suing Hewlett-Packard over a penis size estimator that bears his name.
The "Chubby Checker" app for HP's Palm OS platform was pulled from all Palm and HP listings in September last year and the developer, Magic Apps, is no more, but that hasn't stopped the singer's lawyers going to war over the (frankly genius) use of the name and demanding a stiff half a billion dollars for "irreparable damage and harm" to Checker.
"This lawsuit is about preserving the integrity and legacy of a man who has spent years working hard at his musical craft and has earned the position of one of the greatest musical entertainers of all time," said attorney Willie Gary. (And yes, as a Brit I find it rather amusing that the attorney taking legal action about a penis related app is called Willie).
When available, the blurb for the app read: "Any of you ladies out there just start seeing someone new and wondering what the size of there [sic] member is? … All you need to do is find out the man's shoe size and plug it in and … there is no need for disappointment or surprise."
Chubby Checker's real name is Ernest Evans but the singer trademarked his stage name back in 1997.
The lawyers acting for the singer say people who have purchased the tool "are being misled into believing that plaintiffs have endorsed the defendant's app".
What makes the story even more entertaining is the Chubby Checker app, which was released on November 13 2010, was reportedly downloaded just 84 times before being yanked from the store.
Photo Credits: Randy Miramontez/Shutterstock