Valve launches Steam for Linux and announces a celebration sale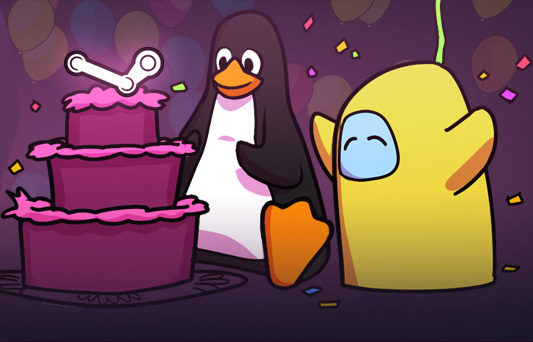 After two months of public beta testing, the Linux version of Valve's popular multiplayer gaming ecosystem has been officially released and is available to download for free from the Ubuntu Software Center.
To celebrate the release, Valve is cutting the price of 50 Linux titles by between 50-80 percent in a week long sale that will end on Thursday, 21 February at 10 AM PST. Games currently on sale include Bastion, Trine 2, Counter Strike Source, Serious Sam 3, and Darwinia.
The free-to-play Team Fortress 2 is also available on the new client and, for a limited time, Steam is giving players a free, in-game Tux mascot that can be carried or traded.
Speaking about the launch, David Pitkin, Director of Consumer Applications at Canonical said: "The introduction of Steam to Ubuntu demonstrates growing demand for open systems from gamers and game developers. We expect a growing number of game developers to include Ubuntu among their target platforms. We're looking forward to seeing AAA games developed with Ubuntu in mind as part of a multi-platform day and date release on Steam".
Steam for Linux also includes Big Picture, a new mode for viewing on televisions, that can be interacted with using a game controller.
The creation of a Linux client is a direct result of Valve's boss Gabe Newell's dislike of Windows 8 (he famously called the new OS "a catastrophe for everyone in the PC space"). Six months ago, following Valve's announcement that it would be embracing Linux -- well Ubuntu at least -- I asked the question Will Windows 8 make Linux the new gaming OS? Now that Steam for Linux is here I guess we'll find out.
Are you excited about the new Steam client and do you think it will make a difference to Ubuntu's popularity -- with gamers or just in general?