Microsoft bundles tempt Surface Pro buyers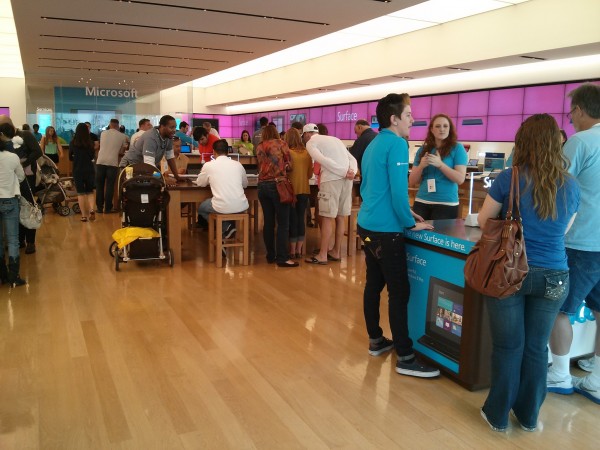 Yesterday, I spent about 45 minutes at Microsoft Store San Diego, which was busy -- sight not seen since Kinect's November 2010 launch. Shoppers came to see Surface, and there were lots of questions and explorations of both tablets, although clearly Pro was the draw. Unfortunately, only the 64GB model is in stock, which somewhat muted sales, or so I observed.
If Surface is a failure, as so many bigmouths on the InterWebs claim, what company wouldn't want one like this? There are many measures of success in retail, and just getting people in the door is one of them. Once inside, shoppers may buy something, or walk out feeling better about the brand, leading to sales of something else later on. "Jesus! Can you believe that Microsoft? Baby, you shop here for my birthday!"
Sales Sense
The "Surface sales suck" crowd likes to make big comparisons to Apple and iPad and allude to anything less as failure. Again, success has many measures. Surface RT and Pro are Microsoft's first commercial computers. The company is new to this business. Now that Apple can sell millions of new iPads or iPhones during launch weekends, bigmouth supporters count no other measure. But that first million was tougher to come by when Apple was the newcomer and took 74 days with the original iPhone. In 2007, tech bloggers and Apple cultists heralded 1,000,000 in 74 as a big success. But if Microsoft does as well or better, Surface is a failure.
Some financial analysts put holiday RT sales at around 600,000 units, which as I explained in December and January is per store on par with iPad, if not better. Last month, Ryan Reith, IDC program manager, estimated fourth quarter Surface RT shipments of 900,000 -- that's for only about 67 days, not 90, since the tablet launched on October 26.
I got a kick posting the photo above on Google+ yesterday and observing the Microsoft-hate reaction. Strange, I don't see these people faulting Google Nexus 10 sales. Surely they aren't high compared to iPad. Does anyone seriously think the search giant has sold 1 million 10.1-inch tablets? Yet the Samsung slate is trumpeted a success.
The Extras
Ancillary sales are another measure of success -- what you can tack on to the big purchase. Tech retailers love to sell extended warranties, because they're generally pure profit. The number of people paying for protection far exceeds those needing new hardware because of coffee spills or other mishaps. AppleCare+ is a great value for iPad or iPhone, because insurance is otherwise costly or tough to come by. Apple charges $99 for iPad and iPhone, which extends base warranty to 2 years and replaces damaged hardware for $49, up to two instances.
Then there is all the stuff sold around the gadget, like connectors and cases. Suddenly a $499 iPad is plus $99, $39 and $29 for AppleCare+, basic case and Thunderbolt adapter. That's good business.
Microsoft Store sells two Surface Pro bundles:
$199.99: Office, Microsoft Complete, carrying case, screen protector
$299.99: Office, Microsoft Complete, Touch Cover, carrying case, screen protector
Buyers can choose Office Home and Student or Office 365 Home Premium, sold separately for $139.99 and $99.99 ($79.99 with new PC), respectively. Microsoft Complete is a two-year extended warranty that includes repair/replacement for accidental damage. That normally costs $149 for Surface Pro, but Microsoft is running a $99 promotion. Touch Cover sells for $129.99. There's value in either bundle when adding the carrying case. Screen protector doesn't excite me, but it is good way to dampen glare for outdoor computing.
Surface or Air?
I've argued that Surface Pro competes with Windows ultrabooks or MacBook Air. The $999 Surface Pro is comparable to the $1,099 MacBook Air. They both come with 1.7GHz Intel Core i5 processor, HD 4000 graphics, 4GB memory and 128GB SSD. Surface display is 10.6 inches diagonally, compared to MacBook Air's 11.6 inches. But Microsoft's screen supports stylus and touch and is much higher resolution (1920 x 1080 vs 1366 x 768). The Mac has a keyboard, which costs extra for Surface Pro.
Before tax, with the more expensive bundle, Surface Pro 128 is $1,298.99 out the door. MacBook Air 128 is $1527.90 (adding $249 for AppleCare; $139.95 for Office for Mac Home and Student 2011; $39.95 for carrying case). Separately buying Office 365 would reduce price to $1,487.94 or $1447.92, if choosing Apple's iWork, Numbers and Keynote.
Which is the better value? You tell me. Price isn't the only consideration but what benefits matter more to you.
Photo Credit: Joe Wilcox