Surface sales suck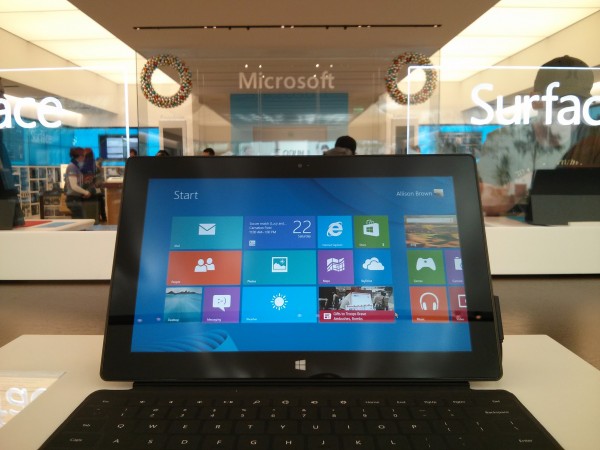 Or do they? If you listen to some analysts, Surface, and other slates running Windows 8 or RT, started slow out of the gate. Considering how much tablets sapped PC shipments in Q4, slow forebodes trouble ahead. Or does it?
"There is no question that Microsoft is in this tablet race to compete for the long haul", Ryan Reith, IDC program manager, says. "However, devices based upon its new Windows 8 and Windows RT operating systems failed to gain much ground during their launch quarter, and reaction to the company's Surface with Windows RT tablet was muted at best". He estimates that Microsoft shipped just 900,000 Surfaces during fourth quarter, which means to stores and not actual sales to customers.
That number sure looks low compared to any manufacturer in the top 5. Even lowly ASUS shipped 3.1 million units. But sell-through matters more. Except for about 10 days of the quarter, at retail, Surface sold exclusively through 66 retail shops in Canada and the United States. Apple offered iPad through an average 390 shops -- 150 outside the United States. Accounting for online sales and doing some best guesstimates, I get 14,680 iPads sold per Apple Store and (assuming 600,000 units) 9,090 Surfaces per Microsoft shop.
However, when adjusting for actual sales days (Microsoft's slate was available for only about two-thirds of the quarter), Surface-sell through averages out a little higher than iPad on a per-store basis. Meaning: Given limited distribution, Microsoft's tablet sells better than IDC shipments suggest.
Size Matters
Microsoft's problem is something else: Size. "We believe that Microsoft and its partners need to quickly adjust to the market realities of smaller screens and lower prices", Reith emphasizes. That's a polite way of saying Surface RT costs too much at $499 and Pro, for sale starting February 9, is already overpriced. But are they? Really?
According to NPD DisplaySearch, market demand shifts towards smaller, and lower-cost models. The firm forecasts that slates with 7-7.9-inch displays will account for 45 percent of shipments this year. By contrast, 9.7-inchers will fall to 17 percent -- that's the size of iPad, the category leader. But Apple offers the 7.9-inch iPad mini, whereas Microsoft and its partners offer nothing in this rapidly exploding size segment.
Apple tablets are pricey, too. Starting February 5, one iPad 4 will sell for $929. But fruit-logo pricing starts lower, at $329 for 16GB iPad with WiFi. Microsoft is locked lowest at $499 with a 10.6-inch slate. What the company needs more is a broader range of sizes and prices, the strategy competitors like Apple, ASUS and Samsung pursue. That would preserve current Surface pricing.
Such an approach doesn't easily fit Microsoft's current tablet strategy, which is all about making a traditional desktop operating system available on more form factors. But that's not what the market wants today, when tablets displace some computer sales rather than replace PCs altogether.
Reith warns: "In the long run, consumers may grow to believe that high-end computing tablets with desktop operating systems are worth a higher premium than other tablets, but until then ASPs on Windows 8 and Windows RT devices need to come down to drive higher volumes".
Give a Little
Simply stated: Working with partners, Microsoft must make gaining market share the top priority. Tablet shipments grew about 75 percent year over year and quarter on quarter to 52.5 million in Q4. Laptops lead the PC category, but NPD DislaySearch predicts that tablet shipments will exceed notebooks this year. Again, that's not so much slates replacing PCs as displacing new sales, as capabilities overlap. Microsoft doesn't want to be left behind Android and iOS slates. This is a platform war that nobody wants to lose.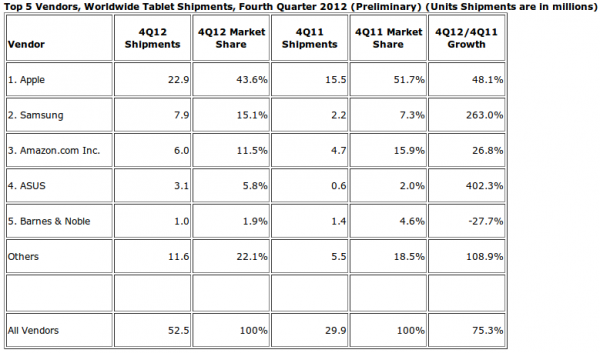 ASUS tablet shipments grew 402.3 percent year over year and Samsung's by 263 percent, according to IDC. These are phenomenal gains, and both companies offer models running Windows 8 or RT alongside Android. Something else: They also sell what Microsoft doesn't -- smaller slates with screens 7-7.9 inches. Short term, Microsoft's options are limited with Surface. But working with partners, Microsoft could bring Windows RT to smaller screens. Such a strategy would preserve Surface pricing and Microsoft's strategy around bringing desktop Windows to new devices.
But there's a wrinkle. Android costs ASUS and Samsung nothing, and Apple realizes the cost of iOS through research and development. Whereas, Microsoft partners pay to license Windows RT. I wouldn't recommend that Microsoft give tablet OEMs Windows for free, but co-marketing contributions and other incentives could temporarily make the fees essentially zero -- on smaller slates.
Already Apple feels the pinch. In Q4, iPad shipment share fell to 43.6 percent from 51.7 percent a year earlier, even as volumes increased (22.9 million from 15.1 million), according to IDC. However, for the second quarter in a row, iPad share declined.
Apple's falling tablet fortunes show just how dynamic is the segment, and that competitors can and will gain share. But for which platform? Android or Windows RT? Microsoft can answer the question, even in part, by adjusting its tablet strategy.
Photo Credit: Joe Wilcox