Of course Microsoft limits Office 2013 rights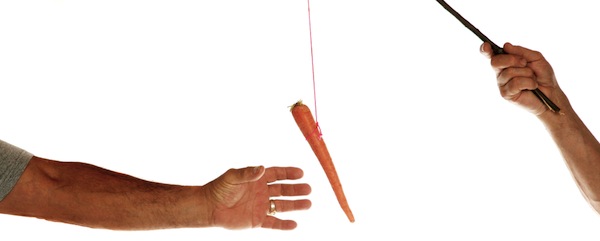 I'm not surprised about the weekend furor over changes to Office 2013 retail licensing terms. Gregg Keizer, writing for Computerworld, has done some of the best reporting on this topic. He deserves your pageviews, starting with this story. I can confirm what he writes, that the new End User License Agreement restricts usage to one PC and isn't transferrable. Whether or not Microsoft actually enforces the provision, or changes it, is another matter. We'll see.
What does perplex me: Why there is no backlash about other licensing term changes that are considerably more onerous and costly. Like I explained last month, "Microsoft really doesn't want you to buy Office 2013". That is the reason for all these licensing changes. The company wants consumers to purchase Office 365 instead.
What the Hell?
Microsoft's method is simple: carrot and stick. The sweet is generous Office 365 licensing terms, which permit the productivity suite on up to five devices, and provides cloud-connected benefits. The wood is more restrictive licensing terms. Office 2010 users can take the license with them -- it's not bound to a single PC. The successor is. (Microsoft instituted similar restrictions on Windows during the last decade, if I rightly recall.) Under the old terms, Office Business or Professional edition buyers could install on up to two PCs and three for Home and Student. Office 2013 reduces the licenses to one.
The software giant doesn't want to sell a perpetual license, and uses more restrictive terms to discourage consumers. The buyer pays once and can use the suite forever. By contrast, Office 365 is a subscription product that allows the user access to the software as long as he or she pays. If you don't renew the service, that's the end of Office.
Conceptually Microsoft takes less per license, since consumers pay $99 per year versus, say, $399 for Office Standard. The company realizes benefits:
Converts customers to subscriptions, which evens out revenue, reducing sales spikes and slides around new releases and between them.
Generates new revenue. Microsoft otherwise sells to a saturated market -- growth is gone -- that upgrades only every four years or more.
Reduces fragmentation by keeping consumers on the newest Office version all the time, allowing Microsoft to innovate faster and pass updates on quickly to users.
Brings Office and customers using it to the cloud, where they get benefits of anytime, anywhere and on-anything computing (and hopefully keeps them from Google Docs).
Stick: Pay More
The licensing term changes essentially are price increases. Big ones. I'm surprised how little complaint there is about that. Recapping some of what I explained in September story "What Office 2013 pricing means to you", the changes effectively raise per-license cost as much as 180 percent.
For example, Office Home and Student 2010 lists for $149.99, with aforementioned three licenses. Its successor, with one license, is $139.99. Microsoft nearly trebles Office Home and Student 2013 for anyone wanting three licenses (from $149.99 to $419.97). Home and Business 2013 is $219.99 for one license, compared to $199.99 for 2010 version, which comes with two licenses. Professional: $399.99 for 2013; 349.99 for 2010. Companies wanting two Office 2013 licenses will pay $439.98 for Business or $699.98 for Pro.
For many consumers or small businesses, the ability to install Office on two or more PCs for lower price hugely appeals. Microsoft will let them do that still, if they buy into the subscription model. We go from stick to carrot, which for consumers starts at $99 per year, with rights to install Office on up to five PCs. By the way, Apple and Google impose no limitations like this for their productivity suites.
Carrot: Get More
How does Office 365's value compare? That $150 price for Office Home and Student 2010 is one time, for three licenses. The second year of Office 365 means the buyer pays about $50 more to continue using the product. Double that in year three: $99.99 x 3 = $299.97. Office Home and Student 2010 price: $149.99. That one-time payment covers you, while Office 365 is another $99.99 every year, and that's assuming Microsoft doesn't increase the subscription price later.
However, the Office version included with 365 is equivalent to Professional, which adds Access, Outlook and Publisher to Excel, OneNote, PowerPoint and Word. That version, with single perpetual license, sells for $399.99, or 300 percent more than Office 365 for one year. Then there are added incentives for the subscription version, such as Office app cloud access via browser on any PC, 20GB SkyDrive storage and 60 minutes of Skype calls per month.
So from another perspective, Office 365 is comparatively a helluva bargain, as long as the buyer doesn't care about having a perpetual license. To be honest, I wouldn't.
Again, that's the carrot. If you want to eat sweet and use Microsoft Office, subscription pricing is the future. The point: Microsoft rewards customers choosing Office 365 and penalizes those opting for perpetual license.
Photo Credit: mikeledray/Shutterstock