Up yours Apple! Samsung to launch Galaxy S IV in the US next month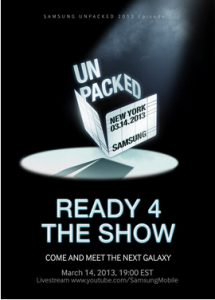 Samsung might have received a $1.05 billion bloody nose in its battle against Apple last year, but the South Korean giant is coming back fighting, by launching the next version of its flagship smartphone on US soil next month. The first such launch in three years.
Confirmed today at the Mobile World Congress in Barcelona, and in a tweet, Samsung will be unveiling the Galaxy S IV in New York as part of the Samsung Unpacked event on March 14.
According to the South Korean Edaily news website, JK Shin Samsung Electronics' mobile division chief said: "We introduced the Galaxy S III in London last year, and this time we changed the venue (to New York)... as we were bombarded with requests from U.S. mobile carriers to unveil the Galaxy S IV in the country".
The new flagship device is widely expected to offer a higher-resolution display, Exynos 5 8-core processor, and much better front and rear cameras than its predecessor. One thing we do know for certain is it will be rocking the latest version of Jelly Bean 4.2.2.
Samsung Electronics unveiled the original Galaxy S at the CTIA mobile trade show in the US in 2010, but the S II and S III were launched in Spain (2011) and the UK (2012) respectively.
Are you excited by the announcement, and do you plan to buy the new device when it becomes available?