PC shipments go from worse to, well, you don't want to know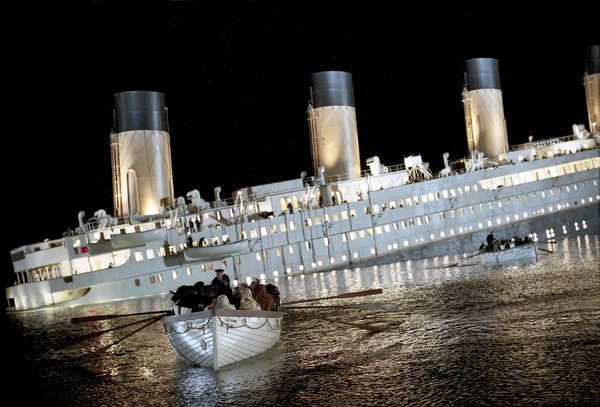 IDC sure knows how to ruin a Monday. The analyst firm released final personal computer shipment tabulations for fourth quarter and all 2012 and made a dismal forecast for this year. If you're as tired of reading "PC is dead" stories as I am writing them, cover your eyes. Read no further. The horrors ahead are unbearable.
Global shipments will decline for the second year in a row in 2013, with Windows 8 giving no perceptual lift at all. Holidays were a bust, as will be the year. You can't fault Microsoft for trying, but there is only so much water you can throw off a sinking ship with buckets before it plunges beneath the waves. Perhaps only the rumored Windows Blue can save the PC now, but Win8 was supposed to do that -- and look what happened. When an analyst firm uses "underwhelming reception" to describe a Microsoft operating system, it's time to abandon ship.
Global PC shipments fell a stunning 8.2 percent during Q4, when Windows 8 launched, for the steepest holiday quarter decline ever. Shipments fell 3.7 percent for the year, and IDC predicts 1.2 percent dip in 2013. Remember: this year's fall back comes from an already weak comparable.
"The PC market is still looking for updated models to gain traction and demonstrate sufficient appeal to drive growth in a very competitive market", Loren Loverde, IDC program vice president. Competition comes from you know where -- tablets, which shipments will surpass notebooks this year, according to NPD DisplaySearch.
For about eight quarters now, analysts promised some respite would come from either Windows 8 or emerging markets. They're not buying either. Smartphones and tablets are only a little less likely to pull away sales there, too. Overall PC shipments to emerging markets fell 1.4 percent in 2012; IDC predicts tepid, 0.6 percent growth this year.
"Growth in emerging regions has slowed considerably, and we continue to see constrained PC demand as buyers favor other devices for their mobility and convenience features", Loverde says. (What's that music? Do I hear a band playing "Nearer My God to Thee?") "We still don't see tablets -- with limited local storage, file system, lesser focus on traditional productivity, etc. -- as functional competitors to PCs, but they are winning consumer dollars with mobility and consumer appeal nevertheless".
I keep hearing analysts say tablets aren't good enough, but consumers continue not to listen. That says how much for how long most people primarily use a computer to consume content -- and smartphones and tablets are good enough for that. The real content most people create -- emails, IMs, photo shares or social network posts -- are easily done on mobile devices.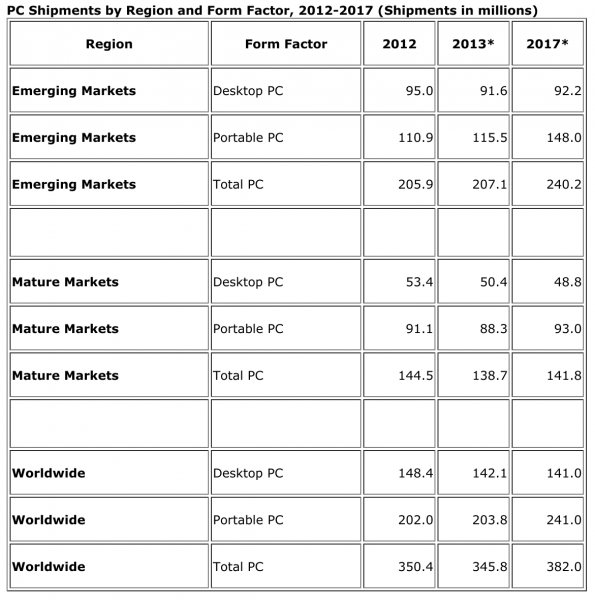 As for mature markets, shipments fell by 6.9 percent last year and are forecast to decline 4 percent this year. Shipments of laptops, which compete most directly with tablets, fell 8.1 percent in 2012. IDC predicts only 3.1 percent drop this year. What a recovery!
Here at home (hey, I live in the United States), the "PC market struggled in 2012, culminating with a 6.5 percent year-on-year decrease in the fourth quarter and -7.6 percent growth for the full year", Rajani Singh, IDC research analyst, says. "Market saturation, a tough economic environment and weakness across the board, and lack of momentum for Windows 8, which led to 2012 contraction, are expected to persist at least during the first half of 2013".
Yikes! Did someone say "Man the lifeboats!" The ship isn't lost yet.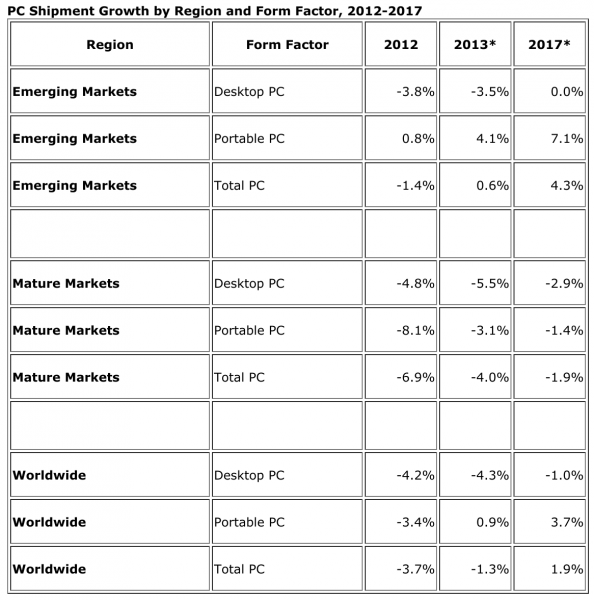 "IDC expects the second half of 2013 to regain some marginal momentum partly as a rubber band effect from 2012, and largely thanks to the outcome of industry restructuring, better channel involvement, and potentially greater acceptance of Windows 8", Singh says. "We also anticipate a new refresh cycle momentum in the commercial segment driven by the end of Window XP life support".
Microsoft's mainstream support ended four years ago next month, and the company will finally pull the plug on extended support in 13 months. Cute. In the "notes" section in the XP lifecycle support page table, someone at Microsoft put "Upgrade to Windows 8 now!" next to Home and Pro.
That's good advice for Microsoft Windows 8 license sales. As for helping new PCs -- damn, the lifeboats are all gone.