Motorola Droid Razr and Maxx, you're getting Android 4.1.2 Jelly Bean!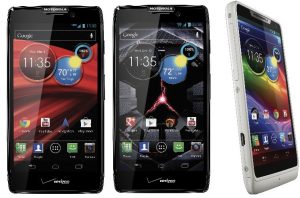 Almost a year and a half ago, Motorola introduced the skinny Droid Razr smartphone which was followed shortly by its Droid Razr Maxx younger brother, thicker but with a beefed-up battery onboard. Originally the two devices came with Android 2.3 Gingerbread but Google's subsidiary upgraded both to Ice Cream Sandwich in mid-2012.
And, now, Motorola has another surprise in store for Droid Razr and Droid Razr Maxx owners -- Android 4.1.2 is coming. The Verizon-branded handsets will be able to take advantage of a plethora of new features and improvements courtesy of the first Jelly Bean iteration. There are also a number of bug fixes and less branded apps included alongside the coveted software upgrade, which bears the "98.72.16.XT912.Verizon.en.US" moniker.
On the Droid Razr and Droid Razr Maxx, Android 4.1.2 Jelly Bean delivers the Google Now personal assistant with enhanced voice search capabilities, revamped camera with better picture quality, more accurate dictionaries for the keyboard with word predictions, new Gallery app, revised notification panel with expandable notifications, support for Wi-Fi hotspot and Chrome as the default browser.
Motorola has also fixed a number of bugs for 3G and 4G connectivity (improved voice and data connection and coverage quality), audio settings (easier to find and edit Audio Effects), contacts (sync will occur more often), global roaming (improved GSM roaming connectivity), Google Maps (faster GPS lock-in times), music playlists (playlists are easier to create), Outlook sync (faster updates for email and calendar) and Quick Office (fixed random closing when displaying documents).
The software upgrade also removes a number of apps (Alarm and Timer, MOTOACTV, MOTOCAST 2.0, MOTOPRINT, My Gallery, My Music, Social Location and Verizon Video on Demand) and widgets (My Gallary, My MOTOCAST, My Music, Picture Slideshow, Social Location, Sticky Note and Weather & World Clock).
Motorola advises Droid Razr and Droid Razr Maxx users to only install the update using Wi-Fi and when the battery has more than 50 percent charge left.