Dell unveils the Windows 8-based XPS 18 all in one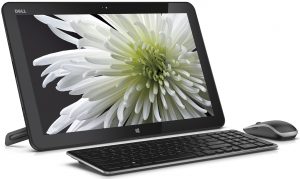 Just how big is too big? In late-August, last year, I made the case for 15-inch tablets being suited for resource-intensive tasks, as well as lying on the couch to catch up on the newest episode of my favorite show, but somehow I sense that manufacturers have taken things too far.
The latest entry in the mammoth touchscreen genre comes from American company Dell which, on Wednesday, unveiled the XPS 18 AIO (All-In-One). As you might imagine judging by its name, the XPS 18 features an 18-inch touchscreen display, with a resolution of 1920 by 1080, or as Dell likes to call it "twice the screen size of Apple's iPad" (like the two are in some sort of competition -- which they are not).
Dell pits the XPS 18 as a versatile device capable of media streaming and "gaming for families" in a lightweight package. The company says that weight comes in under 5 lbs (2.3 KG), making it 6 lbs lighter than Sony's Tap 20 that was unveiled in mid-October, last year. However, that device features a larger 20-inch display.
The XPS 10 is powered by "third-generation core processors" from Intel (which suggests a Core i5 or Core i7). The AIO sports an aluminium back panel and adjustable stand and Dell's Wyse PocketCloud app for creating and managing a personal cloud, among the most noteworthy features.
The Dell XPS 18 will be available from Dell.com in US and select European markets from $899.99, starting April 16.