Samsung Galaxy Note 8 arrives April 11, but something's missing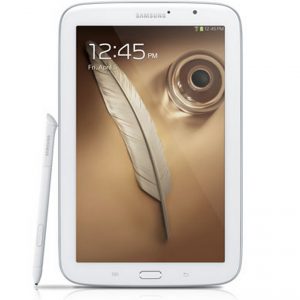 What's wrong with Samsung? That's the question I asked in newsroom group chat today after seeing specs for Galaxy Note 8.0. Screen resolution diminishes the otherwise noteworthy feature list. Sorry, but 1280 by 800 is inadequate -- little more than matchup to Apple's iPad mini, which is similar size. For a company that makes such great-looking displays, lower-res is an endemic problem across Samsung's entire tablet line.
I really expected more from Galaxy Note 8.0, which as the same suggests has an 8-inch screen; iPad mini is 7.9. Samsung unveiled the tablet in February, and I wrote the news story. But in the rush of Mobile World Congress news didn't consider screen resolution, in part on possibility specs would change. The electronics giant has done it before, announcing one thing but shipping something slightly different months later.
"Back in 2010, the launch of the first Samsung Galaxy Tab with 7-inch screen opened a new chapter in the mobile industry", JK Shin, president of the company's mobile division, asserts. He's wrong about that. Three years ago, the market demanded larger tablets, like 9.7-inch iPad and 10.1 inchers from other companies, including Samsung. Among the reasons smaller tablets flopped earlier on: Prices were too high and many models sold though cellular carriers that demanded costly data plans with 2-year contracts.
"Now almost three years later, Samsung continues to evolve the sector that meets the demands of modern life", Shin says. "Evolve" is right. The new tablet could have been so much more than bringing the stylus to "tweener" size between 5.5-inch Galaxy Note II and larger Note 10.1. The size is just about right.
NPD DisplaySearch forecasts a dramatic shift in tablet size preferences this year. Larger is out, smaller is in. iPad dominated tablet shipments through release of the mini. But during the holidays, iPad mini sales surged. Meanwhile, 7-inch models, such as Google's Nexus 7, wooed consumers with greater features for lesser cost.
Display shipments foreshadow future devices. In early January, the analyst firm forecast that tablet shipments would exceed laptops this year and that the market would shift from 9.7-inch models to those between 7-7.9 inches. At the end of February, DisplaySearch backed up the forecast with real, recent numbers that revealed dramatic changes ahead.
Between December and January, 9.7-inch panel shipments collapsed, falling to 1.3 million from 7.4 million and indicating that Apple sales largely shifted from iPad to mini. Meanwhile 7-to-7.9-inch panel shipments grew from 12 million to 14 million.
At 8 inches, the new Galaxy Note is right at the sweet spot. "We forecast that tablet PC panels will hit 254 million in 2013, up tremendously from 160 million in 2012", David Hsieh, DisplaySearch vice president, says. "Of this, 5-8.9-inch panels will account for 136 million and 9-10 inch for 118 million. That means smaller-size tablet PC panels -- 7-8.9 inches -- will surpass the larger size tablet PC panels (9-10 inches-plus)".
But Samsung stands still on screen resolution, while competitors go forward. "Many panel makers are developing 7-inch 1920 × 1200 or even 8.9-inch 1920 × 1200 or 2048 × 1536 panels with more than 300 ppi", Hsieh says. These higher-res screens will come to market this year, overshadowing Galaxy Note 8.0. Think about it. When Apple bumps up iPad mini to Retina Display, how will Samsung's tab really stand out.
"Galaxy Note 8.0 breaths fresh life into the category as it delivers the perfect fusion of portability and everyday productivity -- the result is a pioneering, pocket-sized solution that enhances and enriches our everyday lives, whether at work or play", Shin claims.
I can't agree. We will see how the market receives this $399.99 iPad mini competitor. The two tablets are about the same size, with similar screen resolution. But Apple's tablet costs about $70 less for same storage capacity. The stylus, and supporting software, is the big hardware differentiator. Software-wise, Samsung ships TouchWiz UI and stylus apps on top of Android 4.1.2, plus some business-oriented solutions.