Apple's mini is more popular than iPad, and that's not a good thing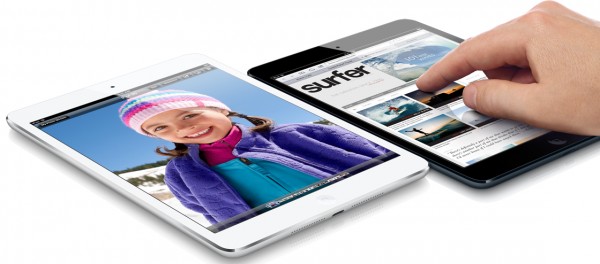 Nearly two months ago, when forecasting that tablets would outsell laptops this year, NPD DisplaySearch dropped dirty data bomb: shipments of slates with 7-7.9-inch screens will eclipse larger ones. Now the analyst firm puts real numbers behind the prediction, and they are grim for Apple. Talk about mixed blessings. iPad mini sizzles, while iPad fizzles. The problem: Higher sales of one takes away from the other, rather than expands demand. As such, margins are lower for the important category, likely biting Macs, too.
Panel shipments reveal the trend, and it is dramatic in just one month. "Shipments of 9.7-inch tablet PC panels collapsed, falling from 7.4 to 1.3 million, while 7-inch and 7.9-inch panel shipments grew rapidly, from 12 to 14 million", David Hsieh, NPD vice president, says. "Shipments of 10.1-inch panels grew only slightly" from December to January. Apple and Sony are the major manufacturers selling 9.7-inch tablets, the overwhelming majority iPad. Starting today, Sony sells the Xperia Tablet Z, in a move to 10.1 inches, but 9.7-inch volumes aren't high enough to account for such a dramatic shift in panel orders.
"Apple had planned to sell 40 million iPad minis (7.9 inches) and 60 million iPads (9.7 inches) in 2013", Hsieh says. "However, the reality seems to be the reverse, as the iPad mini has been more popular than the iPad. We now understand that Apple may be planning to sell 55 million iPad minis and 33 million iPads in 2013. At the same time, Samsung, Amazon, Google, ASUS and Acer are all eyeing the 7-9-inch segment to grab tablet PC market share, while many white box makers in China are also emphasizing the smaller size tablet PC".
So Apple's problem is two-fold: iPad mini saps margins, while competitors bring lower-cost models to market -- and we saw plenty of those introduced at Mobile World Congress this week, including a $169 tablet from HP.
Margin Math
By my calculations, during calendar Q4, iPad average selling prices fell 12.3 percent quarter on quarter -- from $535 to $467. But there's more! During Apple's earnings call in January, the CFO acknowledged: "We saw a reduction in our iPad ASPs of about $101 year-over-year in the December quarter -- and you can see that, our iPad units grew faster than our iPad revenue in the December quarter". He later added: "iPad mini gross margin is significantly below the corporate average".
As mini goes up, iPad goes down and overall margins with them. Combined, the two tablets make up Apple's second-largest category by revenue, accounting for 18.9 percent during calendar Q4. Revenues rise with higher volumes, but margins decline in a critical segment that affects others.
DisplaySearch predicts global tablet shipments will reach 240 million this year. Assuming Apple does 88 million, that's 36.7 percent. But most of the growth is mini. During 2012, Apple shipped 65 million tablets, but, according to Hsieh, expects to move 55 million iPad minis this year. Do the math.
Indications are strong that iPad mini cannibalizes the larger tablet's sales, but the problem is much larger. During Q4, Mac sales fell about 1 million units short of Wall Street consensus. Apple's excuse about late-delivery of the new iMac rings false, given how much higher are mobile volumes overall. More likely, iPad mini also robs Mac sales.
Think about it. A family with three kids shops Apple Store looking for a new computer, as the old one, while still functioning, has lost its zip. For less than the cost of the lowest-selling iMac ($1,299), the parents can buy three iPad minis ($987) and three Logitech keyboard covers ($299.85) -- $1,286.85. Each student now has a mini-computer and ebook reader usable individually and personalized to taste, rather than fighting over the main Mac, which can still be used on those occasions only a big screen will do.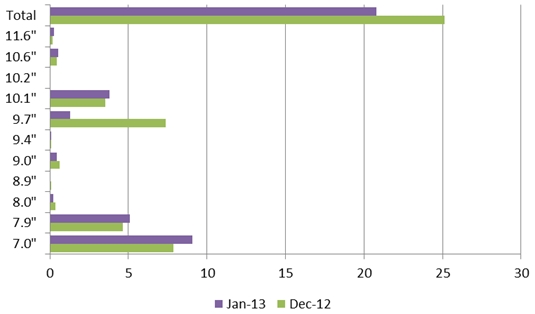 Cannibals Attack
Apple CEO Tim Cook has repeatedly dismissed this scenario. January's conference call:
I see cannibalization as a huge opportunity for us. One, our base philosophy is to never fear cannibalization. If we do, somebody else will just cannibalize it and so we never fear it. We know that iPhone has cannibalized some iPod business. It doesn't worry us, but it's done that. We know that iPad will cannibalize some Macs that doesn't worry us. On iPad in particular, we have the mother of all opportunities here, because the Windows market is much, much larger than the Mac market is.
That's a lovely misdirection. Apple sells Macs, not Windows PCs. While iPad and mini sales might hurt PC sales more, the market is larger. Meanwhile, mini takes money directly from Apple's pocket, shifting sales from higher- to lower-margin products.
Then there is DisplaySearch's chilling forecast. Apple's dominance in larger tablets is indisputable. But smaller slates nip overall market share. For example, Android tablet share surged past 50 percent during third quarter, according to IDC, largely because of smaller, lower-cost slates.
DisplaySearch forecasts that tablets with 7-7.9-inch displays will account for 45 percent of shipments this year, while 9.7-inch slate share falls to just 17 percent. Selling price -- $329 to $659 -- compared to, say, $199 to $299 for Nexus 7 is iPad's disadvantage. If Apple cuts prices to gain, or just keep, market share, more margins bleed out.
I expect Cook to stand firm and use iPad mini sales' success to benefit the broader iOS ecosystem, particularly based on past comments about cannibalization. Meanwhile, other areas of cannibalization work for Apple.
"As the smart phone moves to larger sizes such as 5-6 inches, phablets -- converged smart phone and tablet PC devices -- could cannibalize the 7-inch tablet PC market", Hsieh says. For those people complaining iPhone 5's display (4 inches) is too small and iPad mini's too large, perhaps there is sense to Apple's approach. The separation should prevent the kind of cannibalization Hsieh warns about.