Chromebook Pixel LTE arrives today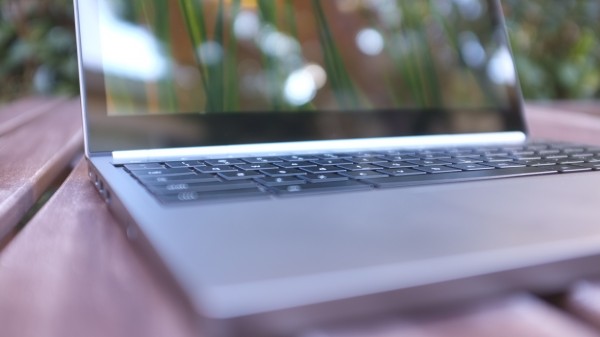 Yesterday, Google posted a public notice that "folks who ordered the Chromebook Pixel LTE from Google Play will start receiving them as early as Friday, April 12th". If that's you, I'd like to hear about it.
Jay Munsterman got his LTE model a day early and "it is sweet! For anyone else that prefers a Dvorak or non-qwerty keyboard: the keys pry off and reattach easily. And if you have both an ARM Chromebook and a Pixel you do end up with 1.1TB of Drive space". So much for today then. The Pixel comes with 1TB free Google Drive storage for three years.
Google started selling the WiFi-only Chromebook Pixel on February 21, with shipping times of six to seven weeks for the LTE model, which is just about right. Both models are pricey -- $1,299 and $1,449, respectively -- particularly compared to other Chromebooks. Judging by reaction from commenters here and posts across the Web, including Google's own social network, many people question the value of such a pricey computer that runs a browser and web apps.
But some of the bloggers and journalists who actually reviewed Chromebook Pixel went on to buy one. Writing for GigaOM, Kevin Tofel opines "Naysayers be damned: Why I bought a Chromebook Pixel. Nearly every Chromebook Pixel review says you shouldn't buy one. But as someone who took a 60-day web-only challenge in 2008, I'm ready for exactly what the Pixel offers".
In his review for CNN, Zach Cumer explains: "Google loaned me a Pixel for this review, and I liked it so much that after I returned the review model I purchased my own. I've been using it for more than a month, but it only takes turning the computer on once to realize how different it is from anything else out there".
When reviewers buy their own -- and something so outside mainstream computing -- that's helluva endorsement. I am breaking up my review into several parts -- one and two -- with a third coming sometime soon.
I won't make a decision on keeping Chromebook until after finishing my review process. I'm leaning that way, but applications matter to me. I'd like to see some more in critical productivity areas, and applications will be critical focus of my next review post.
BetaNews readers give a sharply-pointed thumbs down. To our buying poll, 77.5 percent of respondents say they won't purchase Chromebook Pixel -- that's highest "no" response ever for the question asked about any product here. Yet, looking at blogs and social network posts, those people plunking down the bucks are extremely satisfied with Chromebook Pixel.
Ryan Gibson's "Pixel arrived" April 9. "I'm astonished with the build quality, heck even the box just oozes with quality and thought". He chose the "Wi-Fi version, LTE isn't available within the UK and then there is the differing frequency bands between countries".
Ariel Ruff: "There has been a lot of talk about why Google's new Chromebook Pixel is 'the best laptop you'll never buy'. After proving this notion wrong by actually purchasing one, I'm going to go one step further and give you a look at what the Chromebook Pixel is all about and how it shakes out as a laptop PC solution". He writes a brief review I highly recommend.
He wraps up: "Google's first laptop is quite a shocker. And while owners might be early beta testers, what an awesome beta they get to be part of. We won't truly know what the future of the Pixel might hold until Google tells us at their upcoming Google I/O event. But one thing's certain, limited software selection aside, the Pixel definitely lives in the top 3 section of the best laptops out there chart".
The "limited software selection", whether enough or not, will partly determine Pixel's future in my digital lifestyle and how I ultimately recommend it to others. Price is a barrier there, which directly relates to touchscreen utility. I've used a Chromebook as my primary PC since May, with the exception of February spent with Surface Pro. Touch is natural on the Microsoft tablet, but I rarely find use on the Google laptop. I don't yet see the value of touch for the price.
But the passion of early buyers, my own generally great experience and Who's Who list of early adopters -- including Uglydoll creator David Horvath, Don MacAskill, SmugMug CEO, and Linux creator Linus Torvalds -- may sway me yet.