Chromebook Pixel is Microsoft's worst nightmare come true -- and Apple's, too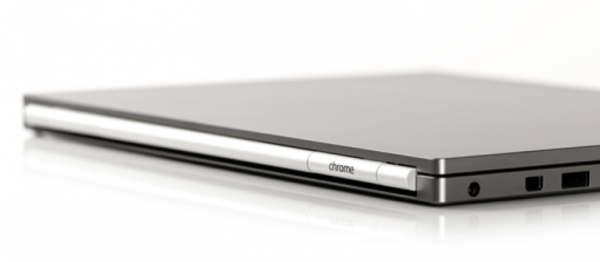 The rumors were true! Google developed a touchscreen Chromebook for release this year. Like today! No one should misunderstand what the computer means competitively. Already, four Microsoft Windows partners produce Chromebooks -- Acer, HP, Lenovo and Samsung. Chromebook Pixel promises to do for the Chrome OS platform what Nexus devices did for Android smartphones and tablets: Establish a reference design for hardware partners and provide developers base system to develop apps for the platform. But it's also a competitive move against PCs running OS X or Windows and Google pushing Chrome OS into the premium notebook market.
Today Google unveiled Chromebook Pixel, following weeks of rumors. The company also extended a vision for Chrome OS. Bottom line: Commitment to the operating system is strong. The search and information giant briefed journalists in different cities. I had to turn down an invite to the San Francisco briefing because of family matters. Do I feel left out! But, hey.
The computer is available now for order from Google Play -- and you'll pay, too. This isn't the value-system touted in "For Everyone" marketing. Chromebook Pixel is for anyone willing to spend $1,299 or $1,449. Orders made right now ship in three to five days for the lower-cost model, 6 to 7 weeks for the other.
Specs: 12.85-inch touchscreen, 2560 x 1700 resolution, 239 pixels per inch, 3:2 aspect ratio; 400-nit brightness; 1.8GHz Core i5 processor; Intel HD graphics 4000; 4GB DDR3 RAM; 32GB or 64GB of storage; HD WebCam; backlit keyboard; dual-band WiFi 802.11 a/b/g/n 2x2; 4G LTE (on one model); Bluetooth 3.0; mini-display port; two USB ports; Chromebook Pixel measures: 297.7 x 224.6 x 16.2 mm. Weighs: 1.52 kg (3.35 pounds). Cost: $1,299 (32GB WiFi); $1,449 (64GB WiFi/4G LTE). 1TB Google Drive storage is included free, for three years.
Crazy Concept
Let's step back and look at the larger context. The concept is crazy. Who launches a new PC operating system and succeeds (look for the answer in the next subhead)? Suddenly Chrome OS poses a credible threat to Windows and OS X. The four OEM partners is a sign, as is the success of Google's "For Everyone" holiday campaign for Chromebooks.
There's a concept called "six degrees of separation", which Hungarian writer Frigyes Karinthy proposed in the 1929 short story "Chains". No two people are separated by more than five intermediaries, which works out to six degrees of separation. If I ask any four people in my social circles if they have Chromebook, at least one answers yes.
Google is on the fast-track. In less time than Microsoft developed and released Windows 8, Google released the first Chromebook prototypes (December 2010), the first commercial models went on sale (June 2011), second-generation Chromebooks launched (May 2012), new-gen ARM model debuted (October 2012) and two of the three largest PC OEMs started selling Chromebooks (January-February 2013). Meanwhile, since October, two major Chrome OS updates released -- yeah, months, not the years from Apple or Microsoft.
Google's big play is value. OEMs pay nothing to license Chrome OS and consumers pay much less for the computers. I could buy four Samsung Series 3 ARM-based Chromebooks for the price of one MacBook Air and get system of similar size, weight and ergonomics. See yesterday's post "Why I love Chromebook", as reference.
Browser OS
Chrome OS success so far is a water-shed development that Microsoft feared long ago. In May 2011 post "Chrome OS: The ghost of Netscape rises to haunt Microsoft", I explained how Google's operating system fulfills ambitions of the original, commercial developer. During the late 1990s, Microsoft integrated Internet Explorer into Windows partly to prevent Netscape from creating, in the browser, a rival platform for applications development. Google has created the rival platform Netscape product managers envisioned 17 years ago. The browser is the operating system -- or the front end running on top of Linux.
In June 2007, I wrote "Why Google Succeeds" -- in parts one and two -- for Microsoft Watch; the content remains hugely relevant six years later. "Unchecked, Google is on course to be the next hugely successful computing platform", I wrote.
Netscape wasn't really Microsoft's competitive problem in the late 1990s but the web itself. Already, by the mid Noughties many developers had made the web priority over Windows. Where do you think cloud computing comes from? "Developer interest in the Web platform -- and the promise of information access anytime, anywhere and on anything -- shifts standards away from Microsoft's dominant platforms", I explained six years ago. Google rode the web platform's coattails, pushing adopted or open standards along the way.
Smartphone and tablet platforms shift applications development, but ultimately the web remains, if for nothing else than the browser engine being used in many applications.
Chrome OS success to date is contrary-thinking. The old axiom is this: no one launches a new PC operating system and succeeds, because:
There aren't enough applications
Switching costs are too high, particularly for businesses
The new thing doesn't fit in with what people already have
The first of these is typically the most difficult. Operating systems like BeOS failed if for no other reason than apps and the typical chicken-egg scenario. Which comes first? Platforms need applications to succeed, but developers have little incentive to create them if there is little adoption. If there are no apps, people don't adopt the platform.
Google has apps. Lots of them, because of the browser. Chrome OS benefits from more than two decades of browser development. Additionally, Google had the foresight to launch the Chrome Web Store nearly three years ago. In May 2010, I gave five reasons for the move. The first: "Google is launching a new operating system".
Chrome web apps run in the browser or Google OS. So anyone using Chrome can carry them to Chrome OS. Google also provides a tightly-integrated suite of cloud services, such as Apps and Gmail, that cover categories businesses already use. Switching is as easy as logging into a Google account on a new PC. Chrome OS fits because the browser is the most familiar motif people use every day.
Contextual Computing
Some people may wonder why Google invests so much in a laptop, when smartphones and tablets are the future of computing. There is no post-PC era. That's marketing propaganda from the mouth of Apple cofounder Steve Jobs. The PC's role changes, but does not disappear. The personal computer goes from being the device hub to one of many connected to the cloud. What matters more is context, how your digital lifestyle moves from device to device adapting differently to your needs in various situations.
The cloud is all about context. Content follows users everywhere, independent of device. Your music is available anytime, anywhere, on anything. On the airplane, there is no HDTV, but you want to watch a movie. So you start on a tablet and finish on the big screen at home. The content remains the same, but devices and locations change, as does the context.
Google products and services are highly contextual. Context is in the corporate DNA. Overture, which Yahoo acquired in 2003, invented the business model Google perfected, selling keywords and ads around search. Hell, it's called contextual advertising -- for a reason.
The search and information giant started making key contextual cloud investments in the late Noughties, with 2008 releases Android (September/October) and Chrome (December) being among the most important platforms. Then there is Chrome OS.
In 2011 and 2012, Google started to bring together a larger package of contextually-oriented offerings alongside Google+ and Search, plus your World. These services are all about context, providing what you want where you need it. Google offers many services, but search, alongside these nine -- Apps; Drive, Gmail; Google Now; Google+; Maps; Search, plus your World; Talk; YouTube -- forms the current contextual platform that culminates in one service.
Three platforms (Android, Chrome and Chrome OS) are the contextual gateways to Google products and services and those from its development and advertising partners. Chrome on OS X and Windows is where Google citizens live because they have to. Chrome OS is their country, where they have full and easy access to all contextual services.
Touch Me
As part of its contextual push, Google advances concepts around natural user interfaces -- that make you more part of the UI. Touch is among the most important, and there are good reasons why Apple and Microsoft support touch in their operating systems.
Bill Buxton, Microsoft's principal researcher, is an expert in user experiences. He says that a good natural user interface must address four human skill sets:
Motor sensory skills
Cognitive skills
Social skill
Emotional skills
Stated differently, good natural user interfaces answer the question: "How do people function?"
Human beings are tool users who experience and manipulate the world through five senses. While the eyes are the gateway, they are passive instruments. Hands and fingers are more important because they are active -- they're how people tactilely manipulate the world around them. People examine objects they desire as much with their hands as their eyes. Watch how people interact with items for sale -- first people look, and then they touch.
The keyboard is a particularly unnatural construct, in which organization is based on the number of times letters are likely to be used. The mouse is more natural than the keyboard, because of the hand and finger-clicking movement. But the mouse is still a makeshift extension of the human being.
The finger and touch are more natural, because they extend you. Same goes for voice, when used to command, which many NUIs allow. Good user interfaces build on the familiar -- and there is nothing more familiar than me, myself and I. See, say, hear and touch.
The point: Computing devices that capture the senses are seemingly living things with some human-like qualities. Chromebook is dead without touch.