Nokia unveils the inexpensive Asha 210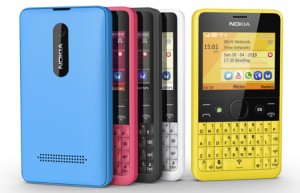 If you were expecting Nokia to unveil a mighty new smartphone today then you will certainly be disappointed. Two days after the company released a teaser which showcased bits of a new device, the Finnish maker simply unveiled another phone in its Asha series, dubbed Asha 210.
The highlights of the Asha 210 include a QWERTY keyboard, a 2 MP back-facing camera with a dedicated physical button, WhatsApp button, support for Facebook, Twitter and email accounts, Bluetooth and Wi-Fi, as well as support for dual-SIM in one of its two variants.
"The Nokia Asha 210 really stands out giving super-social consumers new ways to express their personalities through design, colour and innovations like the world's first WhatsApp button", says Nokia's Timo Toikkanen. "It has been designed to allow people to easily update their social networks, stay in touch with friends and share user created content".
"We are focused on delivering the best WhatsApp experience to as many people as possible", says WhatsApp co-founder Brian Acton. "We are very excited about our partnership with Nokia Asha complementing our strategy of giving people around the world an easy experience when keeping in touch with their friends".
The device also comes with Nokia's Xpress Browser which is designed to reduce cellular data usage by optimizing the content's size on a website. Nokia says that the Asha 210 offers up to 46 days of standby in the single-SIM model and up to 24 days of standby in the dual-SIM model.
Nokia says that the Asha 210 is "designed to offer consumers more social experiences at an affordable price". The company estimates that the handset will be available for roughly $72, once it ships in Q2 2013. Available color choices include black, cyan, magenta, white and yellow.