HP jumps into the greeting and gift card business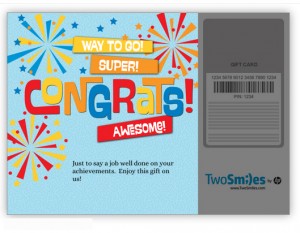 The analysts are telling us that PC sales are down. They would have us believe that soon we will all be exclusively using tablets and smartphones -- that is wrong of course, but the computer market slump cannot be argued. With that fact in mind, manufacturers like Dell, Asus and Lenovo must look for new revenue streams.
It seems HP is actively pursuing this, and today announces a move into the greeting and gift card market. TwoSmiles is a new site that lets customers create a personalized gift at home for their family and friends for any holiday or celebration. The site allows users to choose from artist-created greeting card designs, pick a retailer and gift card amount, and personalize the greeting.
"TwoSmiles by HP offers hundreds of premium-quality designs to choose from for any occasion or special event, including birthdays, Mother's Day and graduations. Printing a TwoSmiles card is easy with HP Easy Print: users simply select the printer and paper size then hit print directly from their browser" the company claims.
Obviously prices vary based on the value of the gift card selected, but it begins at $25. Given that gift cards are a top choice these days -- none of us seems to know what to buy anyone -- this could actually be a viable source of income for the PC manufacturer, as gouging us for ink cartridges is apparently not enough.