You can have iPhone 5, I'll take HTC One

Anyone moving up from a feature phone to smart one and considering iPhone 5 should look at HTC One. From a design perspective, both stand out for mostly metal enclosures, and they share similar design aesthetics. On T-Mobile USA, HD voice is available for both phones, too. Beyond that, their functionality couldn't be more different, because of screen resolution, physical size and overall interaction -- the latter more about operating systems than anything else.
I probably would chose the One over S4 but haven't used the Samsung. I reviewed iPhone 5 in September and one is in process for the HTC flagship. Simply stated: One is the best smartphone I have ever used. The device is so beautiful, the display equally so, that I want to hold and caress the device. Often. Social and news UI BlinkFeed changes how and how often I use a smartphone. More. More. More. The smartphone makes me happy in a way not since the original iPhone nearly six years ago.
The One may be HTC's last stand, and a helluva, well, one, too. Someone put great thought into the design -- from hardware, software to services. The Taiwan-based company struggles of late, losing shipment and subscriber share in key geographies, and reporting disappointing financial results. The One needs to be a big hit -- and it is with me. Magnanimously.
As I write, HTC offers a trade-in promotion that ends May 5. Buyers get a prepaid Visa card when trading in their old handsets -- $300 to $375 for iPhone 5 and $250 for BlackBerry Z10, for example, and $100 guaranteed. If you recently bought one of these handsets -- or have iPhone 4S and Galaxy S III, among others -- HTC offers buyer's remorse cash so you can get the One. The manufacturer sells the unlocked One direct for $574.99. Locked prices start at $199. AT&T, Best Buy, Cincinnati Bell, Sprint and T-Mobile sell the smartphone.
My HTC One arrived on Tuesday. I ordered from T-Mobile, paying $99.99 upfront before tax and shipping. The phone is sold-out locally and online when I purchased mine. I didn't know that HTC sold unlocked phones, which probably would be better way to get faster Android updates.
I started this post by suggesting the One is the choice for people coming from feature phones. I specify them for not having invested in a platform. Existing iPhone owners must justify buying new apps on Android. However, because Apple changed the connector on iPhone 5 and overall physical shape, upgraders must get new cases and replace some peripherals, which makes platform switch easier. They're paying for add-ons either way. Android users thinking iPhone 5 absolutely should strongly consider the One. HTC's flagship offers many of iPhone 5's most-appealing attributes, starting with the striking design, but offer many more benefits.
Hardware Lifestyle
Specs. Smartphones are not just devices that should be compared spec-to-spec. They represent different kinds of digital lifestyles and pointed philosophies about what matters more to mobile users. I'll start the lifestyle discussion with hardware.
HTC One: 4.7-inch Super LCD3 display with 1920 x 1080 resolution and 468 ppi; 1.7GHz Qualcomm Snapdragon 600 quad-core processor; 2GB RAM; 32GB or 64GB storage; 4MP front-facing and 2.1MP rear-facing cameras; 1080p video recording; 4G: LTE (Asia 1800/2600 Mhz), EU (800/1800/2600 MHz), AT&T (700/850/AWS/1900 MHz), Sprint (1900 Mhz), T-mobile USA (1900 Mhz); HSPA/WCDMA (850/900/1900/2100 MHz); GSM/GPRS/EDGE (850/900/1800/1900 MHz); WiFi N; FM radio; GPS + GLONASS; Bluetooth 4; NFC (carrier chooses); DLNA; ambient-light and proximity sensors; accelerometer; digital compass; gyroscope; 2300 mAh battery; Android 4.1.2 with HTC Sense. Measures 137.4 x 68.2 x 9.3 mm and weighs 143 grams. In the United States, AT&T and Sprint: $199.99 for the 32GB model, with 2-year contract. AT&T sells the 64GB One for $299.99. T-Mobile: $99.99 upfront and 24 $20 monthly payments for 32 gigger.
Apple iPhone 5: 4-inch display with 1136 x 640 resolution, 326 ppi; Apple A6 dual-core processor; 1GB RAM; 16GB, 32GB or 64GB storage (depending on model); 8MP rear-facing and 1.2MP front-facing cameras; UMTS/HSDPA/HSUPA (850, 900, 1900, 2100 MHz), GSM/EDGE (850, 900, 1800, 1900 MHz), LTE (bands vary by carrier model and region); accelerometer; ambient-light sensor; gyroscope; GPS; proximity sensor; digital compass; Bluetooth; WiFi N; 1440 mAh fixed battery; carrier locked; iOS 6. Measures 123.8 x 58.6 x 7.6 mm and weighs 112 grams. With 2-year contract sells for: $199 (16GB), $299 (32GB), $399 (64GB). Carrier locked, but in United States not Verizon model. T-Mobile: $99.99 upfront and $24 $20 monthly payments.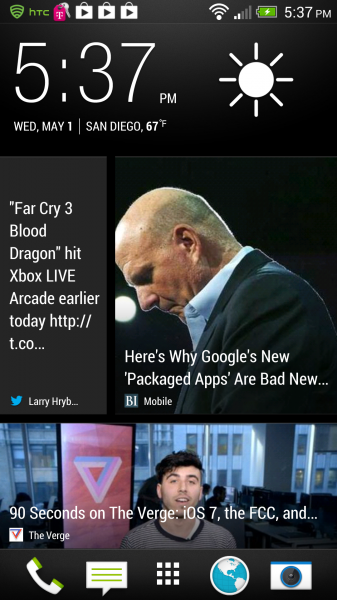 Style. Aesthetically, I find iPhone and One to be the two most-pleasing smartphones currently available in North America, with BlackBerry Z10 also ranking highly. Both feel solid in the hand because of their aluminum enclosures. Metal gives the handsets a ruggedness uncharacteristic of a market so dominated by plastic. Fit and finish is striking on both phones in either color, black and white for iPhone 5, black and silver for HTC One.
Carrying a handsome device is a lifestyle decision. How the phone looks says something about you. For some people, appearance doesn't matter; for many others it's all that matters. I like the aesthetic of both handsets. One is the first Android that looks as good, or better, than any iPhone.
Size is a digital lifestyle choice. Which matters more to you: Having a more pocketable phone or one with larger display, which granted is better for viewing websites, photos or videos? Do you use handset-to-face rather than wired or Bluetooth earphones and does the appearance against the head matter to you? I don't find One to be over-sized, but the device is larger in every way, including thickness and weight, than iPhone 5. HTC's device is heftier by every measure (see full specs above).
Screen. I'm simply stunned how good everything looks on the HTC handset. The screen is larger, 4.7 inches to iPhone's 4 inches, but the measurement deceives. Screen size is a diagonal measure, and iPhone is unusually narrow, making that 4 inches in many ways less than handsets with comparable measure.
One's screen isn't just bigger but offers higher resolution. Like the S4, full 1080p but more pixels per inch (468). iPhone 5 is 1136 x 640 resolution and 326 pixel density. The HTC's screen is gorgeous, from virtually any viewing angle, with superb contrast and color accuracy -- and it's bright. I enjoy the screen so much, my tablet collects dust now. iPhone 5's display, which is no slouch, can't compare.
Sound. The screen is an important part of the One's aesthetic, but surprisingly so are the speakers, which grills flank the display and are pleasingly incorporated into the design. The One features Beats audio, which from front-facing speakers booms. For sheer sound volume and reach, iPhone 5 can't compare.
But there's another measure, which is carrier specific. T-Mobile offers HD audio, which is fantastic. My daughter has iPhone 5, which also supports the capability. Calls are crystal clear. The audio is simply amazing. Both handsets have the feature, but only from select cellular providers.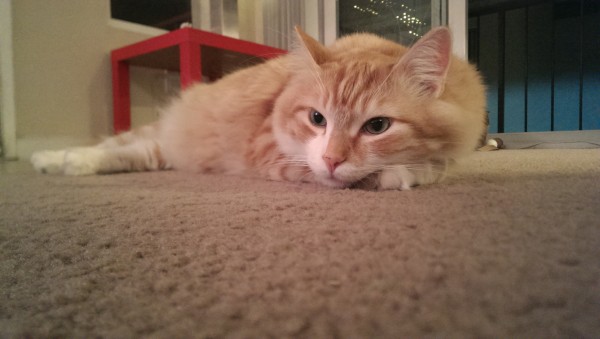 Shutter. Apple and HTC adopt very different approaches to the cameras. iPhone 5's is 8 megapixels and pretty good. One is 4 megapixels, which deceptively looks like a step backwards. More megapixels isn't necessarily better and often is worse. Manufacturers typically add more pixels to the same size sensor. They're smaller and tend to introduce artifacts and other deficiencies, while performing poorly in low-light situations.
HTC takes a different approach, by putting fewer pixels and larger (2 micron pixels) on the sensor. The lens is f/2 aperture, which is a little better than iPhone 5's f/2.4. But it's the sensor that makes the difference. HTC claims up to 300 percent more light sensitivity than 13-megapixel cameraphones. Oh, there is optical image stabilization, too, for when in low light shutter speed is slow.
As a test, I snapped the photo of our cat in the living room around 12:30 am. There were three light sources: The 42-inch screen and two IKEA lamps -- Stranne and Barometer -- neither pointed at the feline. I switched to "Night Mode". Auto ISO is 780.
Connected Lifestyle
Being I write on Saturday, I'll restrain the rest, but not ignore other lifestyle benefits.
Software. My last three smartphones all ran stock Android. But my newest is a step backwards to Jelly Bean 4.1.2, rather than current 4.2.2, the version on my Nexus 4 and what Samsung Galaxy S4 packs, too. HTC skins Android with Sense 5 UI. I expected to really loathe it, being a bit stuck up about stock and put off by Samsung's garish ToucWiz UI. Instead, I rather like Sense, which is tasteful, uses attractive font and adds to Jelly Bean rather than truncate benefits.
Jelly Bean and Sense 5 are killer combination, for simplicity and utility. iOS 6 feels five years too old, by comparison. There's a vibrancy and vitality that iPhone 5 can't match.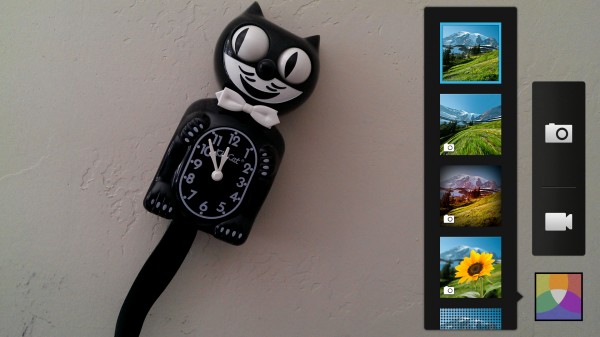 Social. BlinkFeed delivers some of the vitality. The feature brings together social and news feeds into a full-screen Flipboard-like experience, only better. I'm using Twitter now again and even monitoring Facebook -- plus being more informed, whether from social or news feeds. Presentation is excellent and immersive. My gripe: BlinkFeed offers too limited number of sources and no real customization. Why is Huffington Post there alongside AP as a news wire? Where are Google+, Instagram or Pinterest?
Still, I wouldn't give up BlinkFeed for anything. It's an addiction now. Neither Apple, nor its app partners, offers anything comparable. HTC's software/service is its own screen, and you won't find that on iPhone 5 if for no other reason that Apple restrictions.
Shooter. I wrap up returning to the camera, and one of HTC One's unique capabilities. Briefly, as more will come in my actual One review: HTC adds feature call Zoe, essentially 3 seconds of video and 20 still images. If there's a killer app here, Zoe is it along with companion Highlights Reel. The latter takes the Zoe and turns it into a 30-second clip with music -- and the presentation is fantastic.
Apple has got nothing like Zoe or Highlights Reel. I also prefer the overall software shooting experience. HTC keeps the process simple, like iPhone but unlike Galaxy smartphones, while offering meaningful and easily accessible controls.
Photography is another lifestyle choice. I'd buy HTC One just for the camera, software and supporting services.
That's a wrap. I reached gadget nirvana this week. You can have iPhone 5 -- Galaxy S4 or Nexus 4 -- I'll take HTC One.