Meet Nokia Lumia 928 Windows Phone

On Friday, Nokia ended days of teases, officially taking the wraps off the Lumia 928 Windows Phone 8 smartphone. The handset, which will be available exclusively at US mobile operator Verizon, showcases a departure in design from current flagship, Lumia 920, while delivering similar hardware and software specifications.
The Lumia 928 packs a 4.5-inch OLED display with a resolution of 768 by 1280 and 334 pixels per inch, protected by Corning's Gorilla Glass. The screen can be operated using gloves or long fingernails (women should love this). Power comes from a 1.5 GHz dual-core Qualcomm Snapdragon MSM8960 processor, 1GB of RAM and a 2000 mAh battery. The 32 GB internal storage is non-expandable.
The smartphone features a 1.2-megapixel front-facing camera capable of 720p video recording. On the back there is an 8.7 MP PureView shooter with Carl Zeiss Tessar f/2.0 lens, 1.4 sensor, OIS (Optical Image Stabilization) that is capable of 1080p video recording. The Lumia 928 uses a Xenon flash to take still photos and an LED flash for videos.
Nokia says that users will experience "high-amplitude audio capture" while shooting videos thanks to three built-in microphones, which can "record sound naturally and distortion-free, up to 140db". The company also touts a better speaker, which is located on the back of the device and delivers sound at "one to two Decibels higher than anything else out there" -- so Nokia claims. That should please those listening to music using the built-in speaker in public, while annoying passersby.
Just like Lumia 920, the Lumia 928 ships with built-in Qi wireless charging support and works with Nokia's current accessories for the job, like the Wireless Charging Pillow by Fatboy (basically a wireless charging plate with a nicely designed fabric cover on top) and the JBL PlayUP speakers (which feature wireless charging support).
In the connectivity department the smartphone delivers support for 4G LTE networks; Wi-Fi 802.11 a/b/g/n; Bluetooth 3.0 + EDR; microUSB 2.0; A-GPS with Glonass support; NFC (Near Field Communication) and the usual array of sensors including accelerometer, magnetometer and ambient light sensor, among others.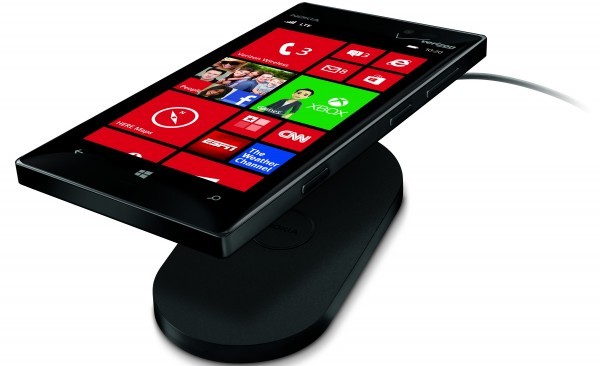 In the software department, Lumia 928 provides access to Nokia's exclusive app collection for Windows Phone 8, which includes the complete HERE suite (HERE City Lens, HERE Drive+ Beta, HERE Maps and HERE Transit), Nokia Music, Nokia Express, Burton and MICHELIN Travel, among others.
The Lumia 928 measures 5.24 x 2.71 x 0.44 inches and weighs 5.7 ounces (133 x 68.8 x 11.1 mm and 161.59 grams), which means that it is taller, narrower, thicker and lighter than the 920 (130.3 x 70.8 x 10.7 mm and 185 grams). The Lumia 928 still has a generous footprint compared to its older brother.
The Lumia 928 arrives in black or white, starting May 16, on Verizon's online and brick-and-mortar stores. On a two-year contract, the smartphone runs for $99 after a $50 mail-in rebate. Early adopters, however, "for a limited time", will receive a $25 credit that can be used to purchase Windows Phone apps and games.