Nokia releases Play To DLNA app for Windows Phone 8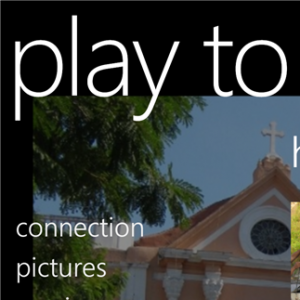 On Friday, Finnish handset maker Nokia announced that the Play To app for Windows Phone 8 made the grade from experimental to stable version and is now publicly available to download from the Store. Previously, the DLNA app could only be installed through Nokia' Beta Labs.
According to the company, Play To brings DLNA to all of Nokia's Windows Phone 8 handsets available today like Lumia 920, 720 and 520, among others. Compared to the experimental version that I detailed little over two weeks ago, the stable Play To app ships with a number of bug fixes but without any new features onboard.
What Can It Do?
Play To can be used to share different types of multimedia content, including music, pictures and videos from a Lumia Windows Phone 8 smartphone, via Wi-Fi, to a DLNA-compatible device such as Microsoft's Xbox gaming console on certain TVs.
Nokia says that, at least at the moment, the app does not support the Sony PlayStation 3 gaming console, the "Denon AVR and some other music receivers". Judging by the comments from the app's Store reviews, it doesn't seem to work even with Microsoft's or Nokia's homebrew apps.
Mixed Feedback
Reviewer Henry, who gives the app a two-star rating, says: "Useless until it supports Xbox music or Nokia music. Two stars for effort". Another user, Timothy, says that Play To is more constrictive: "Doesn't work with most of my media", although the reviewer gave the app a three-star rating.
Others appear to enjoy the app. Anthony says: "Super easy setup. Works on my Dish Hopper. It found it right away, connected and started playing videos, pics". "A little buggy but my God this awesome. Please keep developing and improving this!", says another reviewer.
Nokia encourages users to continue to provide feedback via a Beta Labs forum for Play To. Within the last 24 hours, a large part of the topics created by users are related to compatibility issues with various devices.
"However, we want to be open and frank in the communication and some issues are such that we haven't been able to fix in the application side and will require a future firmware update", Nokia says.
Download
Play To is available to download from the Windows Phone Store. The app only supports Lumia Windows Phone 8 devices.