Firefox 22 Beta improves display scaling in Windows, strengthens privacy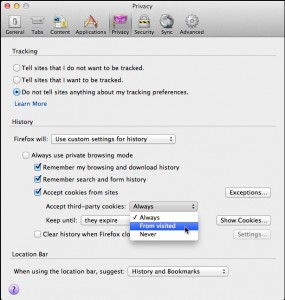 Hot on the heels of the release of Firefox 21 FINAL, Mozilla has released Firefox 22.0 Beta 1, giving adventurous users a glimpse into possible new features and improvements that may land in the next stable release just six weeks from now. Version 21 includes a number of minor new features and improvements, including better protection against unauthorized third-party cookies.
There are also platform-specific improvements for both Windows and Mac builds, plus the usual round of tweaks and performance enhancements to round off the update.
The extra protection against cookies takes another step towards final release, despite stirring up opposition from some ad agencies unhappy with the way it helps counter targeted advertising. By default, all third-party cookies are blocked in Firefox 22 Beta, but users can relax the settings to allow third-party cookies from sites previously visited.
To switch on this feature, which mirrors that already present in Apple's Safari web browser, visit Firefox's Preferences or Options dialog, switch to the Privacy tab and select "Use custom settings for history" before choosing "From visited" under "Accept third-party cookies".
Elsewhere, the Windows build implements one major improvement for owners of higher resolution displays by following the display scaling options set in Windows. As a result, when users increase their display scaling, Firefox will automatically display larger text to follow suit.
One Mac-only enhancement in Firefox 22 is the addition of a download progress bar to the dock icon, allowing users to keep an eye on downloads without having to open the main window. The final new feature sees the Firefox 5 HTML5 audio/video player gain a new Play Speed option, allowing users to slow down or speed up playback.
Another confirmed change is that plain text files now wrap within the Firefox window, making them easier to read. Developers can now also reveal which fonts are being used on a page thanks to the built-in font inspector (select Fonts in the right-hand pane to access it). One feature that doesn't appear to have (yet) migrated across from Firefox 22 Aurora, however, is support for using the Pointer Lock API outside of full-screen mode.
Firefox 22.0 Beta 1 is available now as a free, open-source download for Windows, Mac and Linux. Users can also download Firefox 21.0 FINAL too. Note that Firefox Beta installs over existing Firefox FINAL installations.