Instagram, no, Itsdagram arrives on Windows Phone 8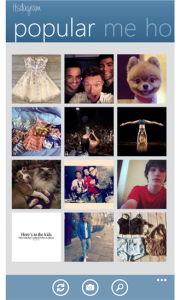 I am not a die-hard Instagrammer, but every once in a while I feel a sudden need to upload a filtered view of the world on the popular photo-sharing social network. That's easy to do with Android handsets and iPhones, but in the Windows Phone realm things are not that simple as there is no official app waiting in the Store. That's not to say there is low demand for one, far from it.
Admittedly, Windows Phone is a smaller market for Instagram than Android and iOS but even so there are likely tens of millions of potential users waiting to grab that official app which never seems to come. Developer Daniel Gary, who is behind a third-party Pinterest app (no official offering available for this one either) called Pinsation, decided to cater to the Windows Phone users' needs for a fully-featured Instagram app and, yesterday, released Itsdagram. The names are quite similar indeed.
Itsdagram touts itself as "the only fully featured Instagram client on the market" (other than the official Instagram app, I presume). The app can be used to create a new account (and log in with an existing one, of course), upload filtered photos, like and comment on posts, follow Instagrammers and discover Facebook friends who use the photo-sharing social network.
Straight after opening Itsdagram, users are greeted with a nicely-designed interface which, through horizontal scrolling, allows folks to view the main feed, popular photos and activity. And, as with the large majority of Windows Phone 8 apps, Itsdagram works flawlessly without any lag whatsoever.
Pictures can easily be uploaded to Instagram either by snapping a new one (makes use of the full array of camera settings) or by choosing a photo from the gallery. Only a cropped part of the picture can be uploaded, due to the size limitations imposed by the format of the social network. Filters, according to the developer, can be automatically updated independent of the app itself. But there are some caveats with Itsdagram.
The free trial, which is supposed to give users access to all features bar unlimited uploads, doesn't allow you to add filters to photos (even though there is no indication that this should be the case) and can only be used to upload one picture. Yeah, just one. Also, Itsdagram only works on Windows Phone 8, so tough luck users of lesser iterations. There is also a fully-featured version of Itsdagram available which runs for $1.49.
Itsdagram is available to download from the Windows Phone Store.