Microsoft debuts Xbox One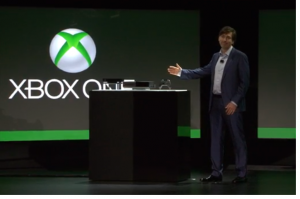 The Xbox 360 has been around since 2005 and, despite retaining its popularity, the console grows long in the tooth. That changes today, as Microsoft announces a new generation of its stealth living room takeover device. Speculation around what was coming has been growing for sometime and reached a crescendo when the company finally unveiled the event date.
Don Mattrick, President of the Interactive Entertainment Business at Microsoft, kicked off the event unveiling the Xbox One, a name that dispelled many myths about Infinity, 720 and 8.
The console packs in 8 gigabytes of RAM, USB 3.0 and a Blu-ray player. All solid hardware inclusions to be sure, but hardly the most impressive part of the event. That was the TV pass-through and incredibly fast voice control, which was shown off in great detail during the course of the show.
TV pass-through works similar to Google TV: customers can plug their cable or satellite box into the Xbox One and out to the TV, eliminating the need for switching inputs. Changing is controlled by simply speaking a command -- "Xbox go to guide", for instance, shows the guide info for your service. Movies, games, music, and live TV can all be controlled with simple spoken commands.
ESPN will now include player tracking, enabling users to easily call up their fantasy team roster and check real time stats to keep track of how players are are faring for your team.
The new Xbox One will also feature trending statistics for games, TV and movies; allow for gesture control; and feature four new sports games from EA -- UFC, Madden, NBA and FIFA. Microsoft Studios also plans to release 15 games within the first year, eight of which will be new franchises, and will kick off with Forza Motorsport 5 available at launch.
Microsoft also unveiled an exclusive TV series, bringing it into direct competition with services such as Netflix and Amazon. The Halo TV show will be directed by Steven Spielberg.
Perhaps the biggest announcement comes in conjunction with Roger Goodell, as Microsoft announces the NFL on Xbox -- an exclusive partnership that will include a range of content.
The new console will arrive "later this year" and pricing was not revealed, but the show did wrap up with a debut of the next Call of Duty, called COD: Ghosts, which will be another exclusive game for the next-generation Microsoft box.