Opera for Android exits beta -- new Webkit engine, new features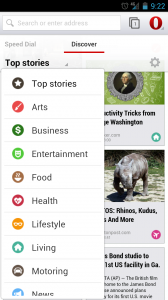 On Tuesday, two and a half months after the first beta was released, Opera announced that its new WebKit-based browser for Android is now available as a "final version". This is just one step towards a Presto-free Opera as, in mid-February, the Norwegian company revealed that it will slowly adopt the WebKit rendering engine across all of its browsers.
Opera for Android, among other new features, emphasizes content discovery by allowing its users to find (and read) various articles straight from the browser's homescreen. Folks simply have to select their areas of interest, such as arts or technology, and Opera displays a number of stories from "relevant global and regional sources". This is similar to what Flipboard and other apps deliver.
"Most people just see a fraction of what the web has to offer", says the company's executive vice president Rikard Gillemyr. "We check out the same sites every day, and you can get through with the latest news after just a short bus ride. We wanted to give people a relaxed way of discovering interesting articles and checking them out without any extra effort".
Opera for Android now sports the compression algorithms from its Mini sibling, available through the new Off-Road mode. The feature is designed to reduce cellular data usage and ensure faster loading times, depending on the scenario (data caps or poor connection, respectively).
The app comes with a redesigned interface which is "built to the native specifications of the Android platform", forgoing the design quirks of the older versions. There is a new combined address and search bar which can be had at either the top or the bottom of the app, easy history access as well as improvements to tabbed browsing and Speed Dial (bookmarks are "fused together" with entries). Users can also save webpages for offline reading, similar to Pocket and other apps.
Opera for Android is available to download from Google Play.