LG takes the wraps off Nexus 4 White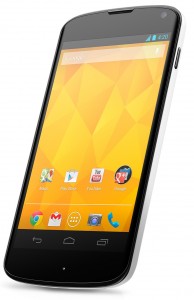 The rumors were true! On Tuesday, South Korean manufacturer LG revealed the new Nexus 4 White. The smartphone features the same hardware specifications as its black sibling, which was announced in late-October, and runs Android 4.2 Jelly Bean.
"Nexus 4 set the standard for Android 4.2 Jelly Bean smartphones", says LG's Jong-seok Park. "Nexus 4 White delivers the same Google experience to consumers in a stylish and attractive color option". The handset follows its predecessor, the Samsung-made Galaxy Nexus, in also sporting a white color trim.
Specifications for the Nexus 4 White include: 4.7-inch IPS display with a resolution of 768 by 1280 and a 320 ppi (pixels per inch) density; 1.5 GHz quad-core Qualcomm Snapdragon S4 Pro processor; Adreno 320 GPU (Graphics Processing Unit); 2 GB of RAM; 8 MP back-facing camera with 1080p video recording; 1.3 MP shooter on the front; HSPA+ cellular connectivity; Wi-Fi 802.11 a/b/g/n; NFC (Near Field Communication); Bluetooth; wireless charging and 8 GB or 16 GB of internal storage. The Nexus 4 White comes in at 133.9 x 68.7 x 9.1 mm and 139 grams.
LG revealed that the Nexus 4 White arrives in Hong Kong first, on May 29, followed by select markets in Asia, Europe, Middle East and North America "over the next several weeks". There is no word yet on pricing or if Google will also offer the smartphone (in white) in its Play store.