Google announces its iPad rival, the Nexus 10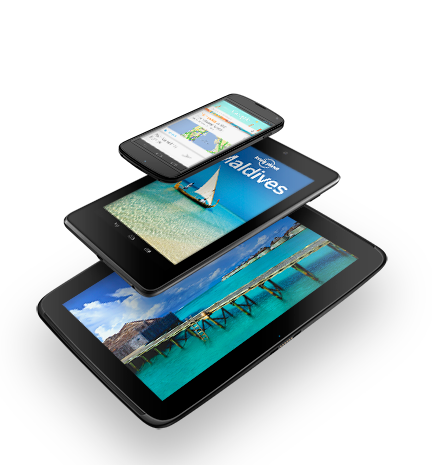 Just in case you were thinking it was all about the iPad mini and Surface tablets at the moment, along comes Google with a new Nexus range. The company had planned to make a big announcement in New York today, stealing some of the thunder from Microsoft's Windows Phone 8 launch, but Hurricane Sandy decided to put the kibosh on that (how ironic), so instead the search giant has had to make do with a blog post instead.
There are actually three Nexus devices being announced today, the Nexus 4 smartphone, the new Nexus 7 tablet (which my colleague Joe Wilcox talked about here) and the bigger Nexus 10 -- Google's 10.1-inch answer to the Apple iPad.
Described as the "ultimate tablet for watching movies or reading magazines", the Samsung-made Nexus 10 has a 2560x1600 (300ppi) AMOLED display (which is higher than the iPad's 2048×1536), front and rear cameras (naturally) and front-facing stereo speakers. It has a 1.7GHz processor with 2GB RAM and runs Android 4.2 Jelly Bean, which will allow multiple users, a feature Google says makes the Nexus 10 "the first truly shareable tablet", The device will come in 16GB ($399) and 32GB ($499) versions and be available to buy from the Google Play store in Australia, Canada, France, Germany, Japan, Spain, United Kingdom and United States from the 13 November.
Apple compared the iPad mini with the Nexus 7 during its launch event. Whether Google planned to return the "favor" and compare the Nexus 10 with the iPad, we'll never know. Could have been fun though.
The Nexus 4 smartphone, developed with LG, has a quad-core processor, 4.7-inch (320ppi) display and wireless charging. Unsurprisingly it also runs the latest version of Jelly Bean, and offers Photo Sphere, which lets users capture 360-degree images that can be shared on Google+ or added to Google Maps. The handset will be available in 8GB ($299) and 16GB ($349) flavors (unlocked and contract-free).
Completing the range, the updated Nexus 7 now comes in 16GB ($199) and 32GB ($249) configurations, and there's also a 32GB and HSPA+ mobile version ($299). By the way, giving a little back to Apple on Google's behalf, Nexus 7 is available with twice the storage capacity, higher-resolution display and 3G for $30 less than the cheapest-selling iPad mini.
Finally, Google has added more entertainment content to Google Play, including movies and TV shows from Twentieth Century Fox, magazines from Time, and songs from Warner Music. Starting from today, users in Australia, Canada, France, Spain and United Kingsom will finally be able to buy movies from the site, and Google will also be adding music to Google Play in Europe from the 13 November.