Microsoft officially confirms what we already know about Windows 8.1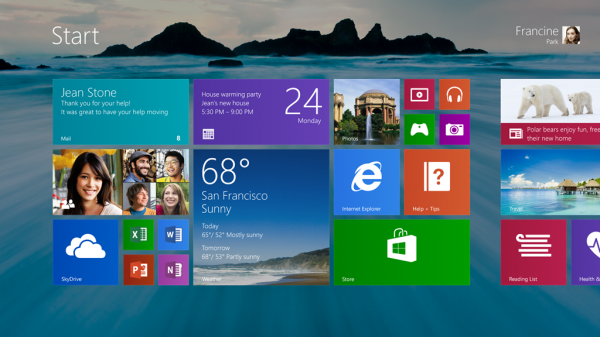 Antoine Leblond, Microsoft's corporate VP for Windows Program Management, has today made an official announcement on the Windows Blog detailing some of the many changes we can expect to see in Windows 8.1.
There are no massive surprises in the reveal, which is titled "Continuing the Windows 8 vision with Windows 8.1". We've already seen and covered most of them previously. But it is good to finally get an official peek behind the curtain.
Windows 8.1 will, Leblond states, be Windows 8, but better. Microsoft is using the update to respond to customer feedback and "deliver improvements and enhancements in key areas like personalization, search, the built-in apps, Windows Store experience, and cloud connectivity".
Windows 8.1 will offer a greater selection of colors and backgrounds for the Start screen, including animated ones, and you'll be able to use your own desktop wallpaper on the Start screen too. There's a selection of tile sizes, including bigger and smaller options, and it will be easier to rearrange tiles, name groups, and delete apps.
Apps you download from the Windows Store won't be automatically added to the Start screen, instead they'll appear on the Apps page and you'll be able to choose which ones to pin. Which is great.
You'll be able to "turn your PC or tablet into a picture frame by making your Lock screen a slide show of your pictures" (stored locally or in SkyDrive) and take photos with a webcam right from the Lock screen without logging in.
The search charm has been revamped and will provide global Bing-powered search results. "It is the modern version of the command line!" claims Leblond, which really fails to sell it.
The built in Windows apps are being revamped, with big changes in store for Photos and Music in particular.
The ability to run multiple apps alongside each other will make a welcome appearance in Windows 8.1 -- something that should have been available from the start in Windows 8.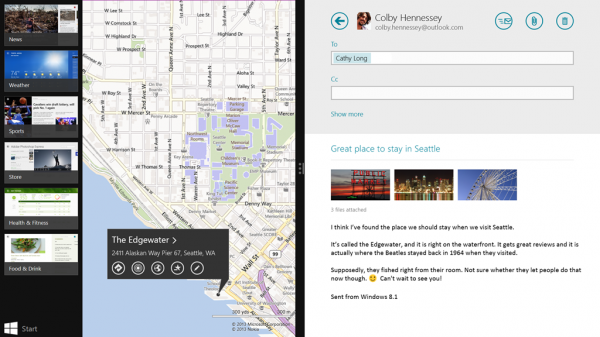 You'll be able to access PC Settings quickly without having to go through the Control Panel and save files directly to SkyDrive.
The Windows Store has been improved too, to show more information about the apps on offer. Given how poor I found the Windows Store experience, anything Microsoft can do to improve it will be hugely welcome.
Perhaps the best news for Windows 8 haters is the return of the Start button which I posted about earlier today. Antoine Leblond admits that touch hasn't taken off quite as quickly as Microsoft obviously expected, and so Windows 8.1 will offer various improvements for the legion of keyboard and mouse users out there.
"We've improved the way you navigate to Start with the mouse by changing the Start 'tip' to be the familiar Windows logo," he says. Clearly Microsoft doesn't want to use the word "button".  "The new tip appears anytime you move the mouse to the bottom left corner of the screen, and is always visible on the taskbar when on the desktop. There are also options to change what the corners do, and options to boot into alternate screens. For example, if you prefer to see the Apps view versus all the tiles, you can choose to have the Start screen go directly to Apps view".
Leblond also confirms that Windows 8.1 will be available to download and try for yourself from June 26, timed to tie in with Microsoft's Build developer conference.
Leblond finishes by stating, somewhat defensively:
Windows 8 has been a bold, necessary move towards mobility for the PC industry -- pushing ourselves and our industry ahead with a touch-first approach that is redefining the PC as we know it, while offering the best of all worlds across any device at any time. Our commitment to that vision -- and to always improving -- remains the same as we stay the course of the evolution of Windows with Windows 8.1. We've been watching, we've been listening; Windows 8.1 will continue to build on what you love bringing the latest advancements in hardware, apps, cloud services and the OS to enable a unique experience in everything you do.
So what are your thoughts on what Windows 8.1 has to offer? Excited, relieved, underwhelmed? Leave your comments below.