Redbox Instant by Verizon lands on Google TV!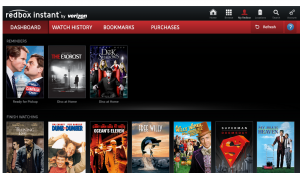 Redbox Instant by Verizon debuted back in March of this year, after extensive private beta testing. The video service, even before that, announced it would be coming to Xbox, but now wishes to push the envelope just a bit further. That envelope today involves a foray into the set-top box market, utilizing Google TV.
Brad Bowers, Sr. Product Manager of TV Applications for Redbox Instant by Verizon, announces, in conjunction with Google, that "the app delivers the full Redbox Instant by Verizon experience right to your living room. This includes access to your subscription disc and streaming package, and ability to purchase and rent the latest new releases from the Redbox Instant store".
The new app finally brings the Redbox streaming experience to Google TV and, with full access, the world opens up right on your big screen TV with the ten-foot interface.
Redbox Instant is already available in Google Play and is compatible with my Vizio Co-Star box. This does, of course, mean I shall perhaps be out for the rest of the day, but let us consider it research for work!