TeamViewer launches on Windows Phone 8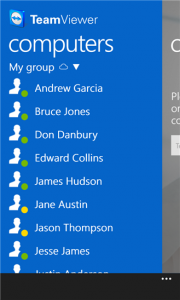 Following Splashtop 2, a new remote control app is now available on Windows Phone 8. The popular TeamViewer just launched, allowing users of the tiled mobile operating system to access Linux, Mac and Windows computers while on the go.
TeamViewer is pretty easy to use, only requiring folks to type in a "partner ID" and passcode in order to remotely control a PC. The app offers essential functionality -- remote typing using a virtual keyboard, direct access to the CTRL + ALT + Del menu and the ability to move the cursor -- and keeps things secure by implementing 256-bit AES encoding and 1024-bit RSA key exchange.
Folks can maintain a list of accessed computers and contacts by signing in with a TeamViewer account (a new one can be created as well) and adding items to the list.
The app also displays the online status for contacts and supports multiple screens, which should come in handy for IT personnel and the go-to expert in the family.
TeamViewer is available to download from the Windows Phone Store.