The iOS 7 features Apple didn't mention at WWDC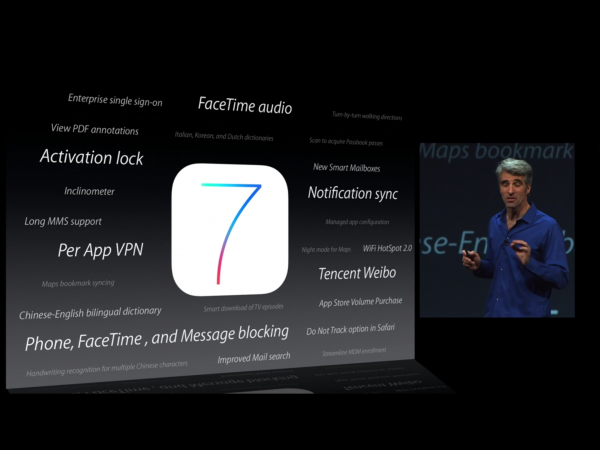 There's no question that iOS 7 is a sexy looking mobile operating system. Jony Ive and his team have done a fantastic job of reinventing and modernizing the interface, but the great news for fans of Apple products is iOS 7 isn't all style and no substance.
Apple ran through a lot of the new or improved features yesterday, including Control Center, AirDrop, Photo app, Siri (with added Bing!), iOS in the Car, FaceTime Audio, and iTunes Radio. But there were features that Craig Federighi, SVP of Software Engineering, didn't mention but which appeared on a slide in the background.
These are:
Enterprise single sign-on
Turn-by-turn walking directions
View PDF annotations
Italian, Korean and Dutch dictionaries
Scan to acquire Passbook passes
New Smart Mailboxes
Inclinometer
Long MMS support
Managed app configuration
Per App VPN
Night mode for Maps
WiFi HotSpot 2.0
Maps bookmark syncing
Chinese English bilingual dictionary
Smart download of TV episodes
App Store Volume Purchase
Do Not Track option in Safari
Handwriting recognition for multiple Chinese characters
Improved Mail search
Streamline MDM enrollment
Some are self-explanatory, others are easy enough to guess at. There are probably more new features too that weren't deemed worthy of inclusion, and it's likely Apple may introduce further functions and options prior to iOS 7's official release.
We can expect to see a new iPhone in the Fall and having been blown away by what iOS 7 has to offer, I think I might be one of the first in the queue (sorry Samsung/Android, it's not you, it's me).