Nokia Lumia 925 lands at Vodafone UK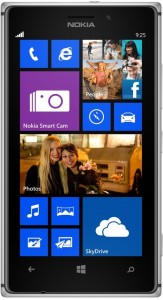 Following the smartphone's German launch on Monday, the Lumia 925 arrived in the UK today courtesy of local mobile operator Vodafone. The carrier offers the handset in an exclusive 32 GB storage trim with no upfront cost alongside two-year agreements starting at £34 per month.
In order to get the Lumia 925 for free local Vodafone subscribers have to go with either a Red L or Red XL plan. Both contracts offer unlimited minutes and texts. The former goes for £34 per month and also includes 2 GB of mobile data while the latter runs for £39 per month and adds 4 GB of cellular traffic.
At Vodafone UK, the Lumia 925 can also be purchased alongside less expensive two-year agreements which go for £21, £25 and £29 per month (and still offer unlimited texts). This raises the upfront cost to £199, £149 and £99, respectively.
Highlights of the Vodafone-branded Lumia 925 include: Windows Phone 8 operating system; 4.5-inch AMOLED display with a resolution of 768 by 1280 and a 334 ppi (pixels per inch) density; 1.5 GHz dual-core Qualcomm Snapdragon S4 processor; 1 GB of RAM; 2,000 mAh non-removable battery; 8.7 MP back-facing camera; 1.2 MP shooter on the front; 32 GB of internal storage; 4G LTE and HSPA+ cellular connectivity. The Lumia 925 comes in at 129 x 70.6 x 8.5 mm and 139 grams.