Blink for Windows Phone 8 adds GIF support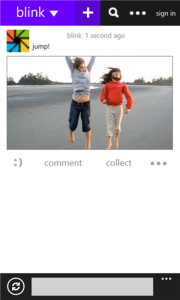 Microsoft just released the second major iteration of its Blink Windows Phone 8 app which now introduces GIF (the pronunciation is still open for debate) support, new features and improved functionality.
The app, which is built by Microsoft Research (the software giant's research arm), allows users to take advantage of its burst shot feature to combine multiple pictures (the number is user-selectable) into a GIF image. The GIF can be viewed directly after creating it and can be shared via email and three social networks -- Facebook, Microsoft's Socl and Twitter. (It's time to test this with the help of your pet and post the results, for posterity's sake of course.)
Similar to the first version which introduced burst-shot mode as its main highlight, Blink 2.0 takes 16 shots in the time between pressing the dedicated camera button and roughly one second after releasing the shutter.
Blink 2.0 also adds the ability to customize camera settings. Users can adjust scene mode (macro, night or backlit are available), exposure (options range between "Lowest" and "Highest"), white balance (users can choose "Cloudy", "Flash" or "Fluorescent") and ISO (on my Nokia Lumia 920, the settings range between 100 and 800), as well as restore the default settings.
Users can also edit GIFs after the fact and view them in a web gallery (after sharing the files on Socl).
Blink 2.0 is available to download from the Windows Phone Store.
Microsoft also released Blink Cliplets for Windows 8 and Windows RT which allows users to "combine and loop static and dynamic elements from short video clips". Similarly to Blink for Windows Phone 8, users can also share the "cliplets" on Facebook, Socl and Twitter.
Blink Cliplets is available to download from the Windows Store.