Samsung ATIV Q -- Android and Windows 8 get married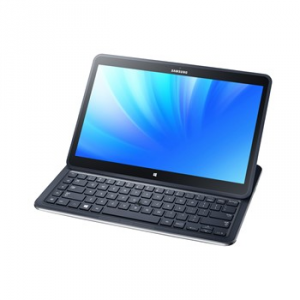 Owning a tablet is a given nowadays; it seems like almost everyone either has one or wants one. However, deciding which tablet to buy is problematic -- how can a consumer choose which tablet operating system is best? Between iOS, Android and Windows 8 you really can't go wrong -- all three tablet-friendly operating systems are mature and stable. However, Samsung is aiming to make your decision much easier. The electronics giant announces the ATIV Q which combines Android and true Windows 8 (not RT) on the same device. To quote R. Kelly and Jay-Z, "welcome to the best of both worlds".
According to Samsung, it is "addressing consumers' desire to access Android apps on a Windows-based PC, the ATIV Q allows users to experience both Windows 8 and Android (Jelly Bean 4.2.2) on the same device. Users will not only get access to Android apps via Google Play but also be able to transfer files, to share folders and files from Windows 8 to Android, truly marrying the mobile and PC experiences".
In other words, this is no mere dual-boot affair -- Android can be launched from within Windows 8. Then, from within Android, the user can pin Android apps to the Windows 8 start screen. The user can then launch Android and Windows 8 apps from the same screen -- a truly innovative and useful feature. Since the device will have access to both the Microsoft Store and Google's Play Store, the user has the ultimate amount of app availability -- well minus iOS, of course.
Not only is it the best of both worlds from an operating system perspective, it also gives the user the two major form factors; tablet and laptop. In laptop mode, there is no track pad. However, there is a pointing stick (nub) located in the middle of the keyboard to work in tandem with the touch screen. The user can fold the screen flush against the keyboard at any time to then work in tablet mode. A stylus is also included to enhance the tablet experience.
However, while users will likely use these two modes most often, there are a total of four that can be utilized. According to Samsung, "The ATIV Q sports an innovative hinge design that allows the user to transform the tablet into four functional modes. Lay the display flat over the keyboard for tablet mode. Raise the display upright to type just like a laptop. Float and adjust the display to a comfortable viewing angle or flip the display to place in the stand mode to watch movies with ease. The four-in-one design of the ATIV Q easily adjusts to give users all the options they need in one device. ATIV Q is also extremely thin and lightweight for optimum portability. At 1.29kg and only 13.9mm, it's easy to take everywhere you go".
As far as specs, the device is no slouch -- it has a freshly released Intel Core i5 Haswell processor with HD 4400 graphics and 4GB of ram. It also utilizes a 128GB SSD which is considered large in the tablet segment. Speaking of large, the 13.3-inch display is also large compared to other devices in the tablet market. With that size of a screen, both laptop and tablet modes should work comfortably and without compromise.
Regarding that screen, Samsung says "The ATIV Q introduces the world's highest resolution, QHD+ (3200x1800) display. The tablet's 13.3-inch touch screen offers 2.8 times higher pixel density (275ppi) than full HD displays for viewing the finest of details. ATIV Q is also designed to provide an optimized viewing experience regardless of location and high brightness in outdoor environment". This is better than Apple's lauded Retina display.
Does Samsung have a winner on its hands? Will you buy it? Tell me in the comments.