Steve Ballmer's hits and misses from Build 2013 keynote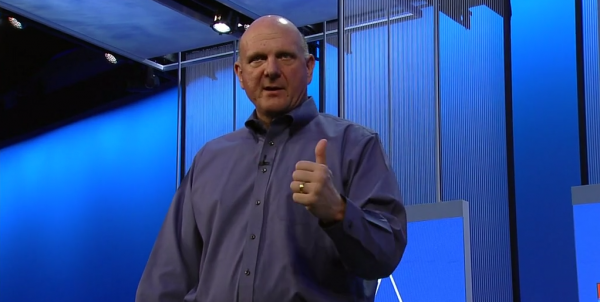 Perpetual release cycles. Windows 8.1. The unified Windows ecosystem. If there are any key takeaways to remember from Microsoft's cornerstone keynote at the Build 2013 conference, these three items would sum it up quite well. Microsoft CEO Steve Ballmer reminded thousands of developers on stage last week that the company isn't getting left in the dust and it has a solid plan going forward.
While most of the tech world was keenly focused solely on Build 2013 as the gateway to the first official peek at Windows 8.1, Ballmer's keynote had a few other important messages to deliver. The Windows update, formerly known as "Blue", may have stole the show but Microsoft had a grander agenda to piggyback at the developer conference.
How did Ballmer do in giving us the "State of Microsoft" at Build this year? Here are the hits, and more importantly, the misses from his tactful performance this last Wednesday.
Hit: Rapid Release Is the New Norm
This single facet of Ballmer's speech (which you can watch here) was by far the biggest theme of his near 25 minutes on stage. If Microsoft's approach to Office 365 and Windows Phone didn't make it apparent already, the man solidified it in a few hard hitting but spot on sentences:
We're certainly going to show you Windows 8.1 today. But you can think of that, in a sense, as the new norm for everything we do. For Windows releases, in addition to what we're doing with devices through our partners, what we're doing with Azure and Office 365, rapid-release cadence is absolutely fundamental to what we're doing and, frankly, to the way we need to mobilize our ecosystem of hardware and software development partners.
In a way, Windows 8.1 is not just a pseudo reset for the Window 8 brand. It is the poster child for Microsoft's evolutionary foray into perpetual rapid release cycles. Never before has such a sizable update hit the release platter so quickly after a major core release, as we are seeing unfold with Windows 8.1. Microsoft used to bring us innovation on a three to four year release schedule. As Melissa Webster from IDC puts it, "Three years is a lifetime in tech these days".
And the truth of the matter is, she's absolutely right. BusinessWeek had an infographic which said Apple was able to bring five iterations of the iPad to market in the same time it took Microsoft to develop Office 2013. Google trounced Microsoft just as easily, delivering five major versions of Android in the same time-frame. While Office 2013 is no doubt a solid upgrade to its predecessor, the days of justifying a single major release every three years are over.
Who better for Microsoft to learn from than Google? After all, Office 365's main competitor, Google Apps, publicly lists hundreds of meaningful updates that were all announced and released into the platform in the same time period that it took to roll out Office 2013. If Ballmer holds true to his promise of rapid release cadence, then Microsoft should be aiming at beating -- not just matching -- Google's extremely optimistic schedule.
Time will tell if Microsoft is on the right track with this. The massive and generally favorable update to Office 365 for Business from February didn't hit most existing customer accounts until May. A near three month lag in getting everyone on the same page is a bit disappointing. Here's hoping the future of 'rapid release' at Microsoft isn't actually rapid for some and eventual for others.
Miss: No Mention of Office 365?
I get it - Windows 8.1 was the star of the show. But to completely pass over Office 365 (both the consumer and business editions) when Microsoft is pushing a generational shift to rapid release is a bit confusing. Isn't Office 365 the primary catalyst that introduced Microsoft's intentions with persistent updates? Giving the first product to receive this treatment the backseat at Build 2013 was a perplexing message conflict on Ballmer's part.
It shouldn't come as a surprise that Microsoft is steadily building up to a future where Office 365 is the face of the suite as we know it. So doubly, keeping the cloud productivity platform in the dark at the conference was an interesting decision from the company's upper echelons.
Miss: Lack of Touch Devices to Blame for Windows 8 Uptake
I found it quite ridiculous that Ballmer took the liberty to blame the slow adoption of Windows 8 on a lack of touch devices last holiday season. I'm not sure what kind of a "Noah's Ark" scale flooding Microsoft was expecting in a holiday season that followed only months after Windows 8 reached RTM (Release to Manufacturing) status. And more importantly, I don't think a sea of touch devices would have overcome an unjustly negative media flow that Microsoft did little to personally stem.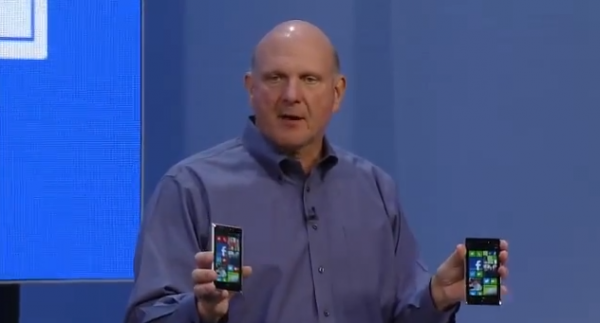 Windows 8, in my opinion, was a positive step forward in many ways. Under the hood, the operating system has all of the power of Windows 7 and then some. The battery life tops that of its predecessor, for mobile devices. Most importantly, I haven't seen a single blue screen since I installed Windows 8 last October -- that's saying something. And security wise, it appears to be the most hardened Windows iteration to date. How come Microsoft wasn't able to swing the media firestorm with all of these positives? Ballmer's reactive, not proactive, marketing department has dropped the ball on what otherwise could have been an easy sell.
There's more to an honest discussion about Windows 8 than just the Modern UI and Start screen. Public opinion was wrongfully hijacked by the media, and Microsoft never made an effort to take it back. Windows 8.1 is a start, but it's hard to reverse course when you're letting critics lead the way.
Hit: Windows Is an Ecosystem Now - Not Just the PC on Your Desk
Another important area that Ballmer actually nailed was Microsoft's commitment to evolving Windows into an experience across devices in its ecosystem. This is important because the face of Microsoft needs to continue changing. The baggage that the operating system's name still carries today is that it represents the old-school. Computing at your desk -- not on the go, in your lap or in your hand.
Ballmer addressed this dilemma:
The Windows device of today doesn't look like the PC of five years ago or 10 years ago or 15 years ago.
I think the line of Windows devices we have today exemplifies this transition from a static, stationary computing device that sits in your cubicle to an array of options for the home, the office, and on the go. And it's only getting better. Microsoft is working with hardware vendors to bring more options to the table for consumers and enterprise customers alike -- something Apple is sorely lacking in its limited focus on just a few devices, all of which are only suitable for deep pocketed buyers.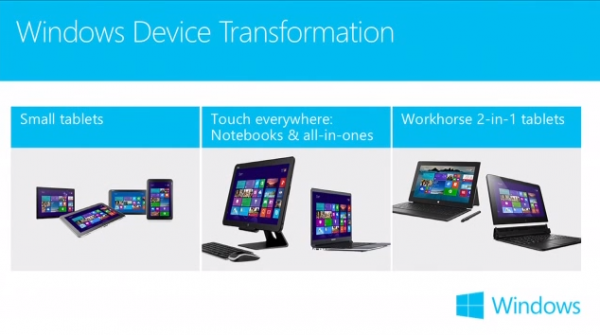 Consumers naturally like choice. In the same way that Android continues to lead the US smartphone operating system landscape, Windows can keep an honest lead in the general computing arena by giving buyers breadth of selection for various needs. Apple famously poked fun at the conformity of the 1980's IBM PC era landscape in its monumental "1984" commercial, but the fruit company hypocritically seems to be making inroads towards such a future again with each and every iPad and iPhone release.
Windows needs to differentiate itself as the alternative to blind uniformity. And Microsoft surely doesn't have to look far from the tree for inspiration. Which company's famous tagline used to be "Think Different"? You can draw your own conclusions there.
Hit: Windows 8.1 is For You, and You, and You
Windows 8.1 hits later this year, but Ballmer rightfully set a half-conciliatory, half-visionary tone for the (massive) point release at Build. This "service pack on steroids" is bringing over 800 updates to Windows 8 covering nearly every inch of the platform. It represents Microsoft's budding commitment to turning longer build cycles into more or less a path of consistent agile development for the operating system as a whole. It's the right move at what couldn't be any more of a right time.
For the most part, Ballmer's presentation of what Windows 8.1 includes and why it matters were equally important. Sure, there were no crowd-awing moments in Jobs-era Apple fashion, but Ballmer is a bona fide salesperson at heart, not a software engineering expert.
The amount of time spent on promoting Windows 8.1 and its "Boot to Desktop" functionality was critical for Microsoft's enterprise perception. Many believe that forcing users into the Modern UI without an option to bypass this app-centric interface was a harbinger of Windows 8 failing in the corporate sector. "Boot to Desktop" puts this concern to rest and ensures that those who rely on the millions of traditional Windows applications are what they should be -- equal citizens in the Windows world.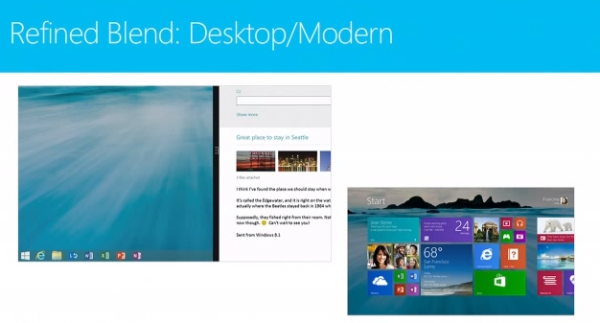 The reintroduction of the Start button is also a way to placate much of the black noise that surrounded the Windows 8 launch. I personally haven't lost any sleep after it ditched the Start button, but numerous others aren't as kind to this change. It's important to remember that Microsoft may have brought it back, but the way the feature works is quite different than ever before. I went over the changes, almost a week ago, which include the new power menu and the basic way that using the button merely brings you into the Start screen. I'll call that a half concession on Microsoft's end.
Will all of these changes help foster a new wave of Windows 8 uptake? Will Microsoft's renewed call to bring Windows into a Google-style of rapid consistent development ring positively with the technical community? My guess is as good as yours. If the coming shockwave of Office 365 conversions is of any potential indication, perhaps Microsoft does have a knack for rebranding itself as the cool, yet secure bet for the industry.
It's not the technology that is holding back Microsoft's resurgence in the computing world. Windows 8 is a darn solid OS. Windows Phone 8 blows me away in terms of usability -- and I'm a proud Android owner. Microsoft needs to win us back by winning the storytelling game. Tech specs and changelogs don't represent an experience. It's the message that does.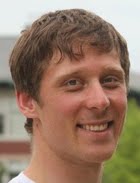 Derrick Wlodarz is an IT Specialist that owns Park Ridge, IL (USA) based technology consulting & service company FireLogic, with over 8+ years of IT experience in the private and public sectors. He holds numerous technical credentials from Microsoft, Google, and CompTIA and specializes in consulting customers on growing hot technologies such as Office 365, Google Apps, cloud hosted VoIP, among others. Derrick is an active member of CompTIA's Subject Matter Expert Technical Advisory Council that shapes the future of CompTIA exams across the world. You can reach him at derrick at wlodarz dot net.