Internet Explorer remains three of the top five web browsers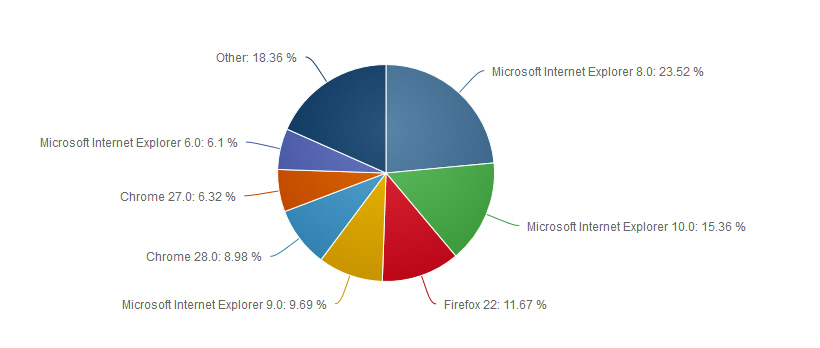 Internet Explorer might no longer hold 96 percent of the browser market like it did back in 2002, but Microsoft's browser still remains hugely popular. Firefox and Chrome took large bites out of IE's dominance, but they have yet to topple it, and don't look set to do so any time soon.
According to new figures from Net Applications, Internet Explorer 8 is the most popular browser on the desktop with 23.52 percent global market share. And it's not the only incarnation of IE in the top five either.
In second place is Internet Explorer 10, helped by its integration in Windows 8 no doubt, with 15.36 percent.
Firefox 22 makes an appearance at three with 11.67 percent, followed by… hands up if you guessed Google's browser? Put your hands down, you're wrong. It's IE9 with 9.69 percent. Chrome 28 rounds out the top five with 8.98 percent, followed by Chrome 27 with 6.32 percent.
Combined, Internet Explorer's total market share in July 2013 was 56.61 percent, followed by Firefox with 18.29 percent and Chrome with 17.76 percent. Safari has 5.42 percent and Opera a lowly 1.49 percent.
The mobile/tablet results naturally show a very different story. There Safari is king with a whopping 58.75 percent thanks to its iOS integration, followed by Android (20.59 percent), Opera Mini (9.42 percent), Chrome (4.44 percent), BlackBerry (2.32 percent) and Internet Explorer (1.88 percent).
You can view the report at Net Applications.