BlackBerry Q10 is NOW available at Sprint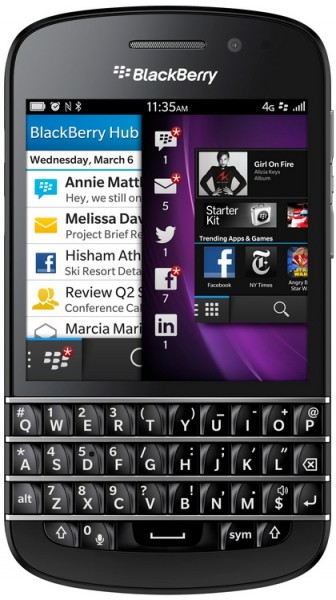 The BlackBerry Q10 was officially unveiled by the Canadian maker during a special event held in late-January. But, sadly for impatient US fans, the QWERTY smartphone only arrived in June at local mobile operators Verizon, T-Mobile and AT&T. Furthermore, Sprint subscribers had to wait even longer to get their hands on the new device.
Good news! Starting today, the BlackBerry Q10 is available at Sprint, after "just" seven months since its unveiling. The US mobile operator offers the smartphone for $99.99, alongside a traditional two-year agreement.
BlackBerry's smartphone market share was at a mere 2.9 percent in Q2 2013, and it's unlikely that BlackBerry Q10 sales on Sprint will significantly boost the company's numbers. By contrast, IDC places Microsoft's Windows Phone at 3.7 percent market share, a number which was boosted by sales of low-end smartphones like the Nokia Lumia 520.
That is a type of handset which BlackBerry currently does not offer, with the cheapest in its new portfolio being the mid-range BlackBerry Q5. BlackBerry's standing in the market even led the company to announce that it is considering a possible sale.
The highlights of the BlackBerry Q10 include: 3.1-inch AMOLED display with a resolution of 720 by 720 and a 330 ppi (pixels per inch) density; 1.5 GHz dual-core Qualcomm Snapdragon S4 processor; 2 GB of RAM; 2,100 mAh battery; 8 MP camera on the back and 2 MP shooter on the front (1080p video recording with the former, 720p video capture with the latter); 16 GB of internal storage; microSD card slot (can accommodate 32 GB cards); 4G LTE connectivity; Wi-Fi 802.11 a/b/g/n; Bluetooth 4.0 and BlackBerry 10.1 operating system. The smartphone comes in at 4.7 x 2.6 x 0.37 inches and 5.07 ounces.