Watch Out! Samsung announces Galaxy Gear wrist-wear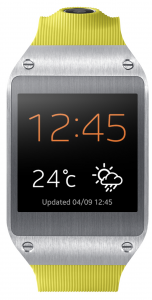 When I was in elementary school, I thought I was pretty cool. You see, I wore the Nintendo Tetris watch. Sadly, I have not been cool since. I have patiently waited over 20 years for a watch to match the epic-awesomeness of that game watch. The rumor-mill has been churning out a lot of smart-watch news this year, pointing to Apple and Google.
Today, Samsung beats both of those companies to market and announces the Galaxy Gear smart-watch. The company describes this new watch as "a perfect companion device that further integrates the Samsung Galaxy experience into everyday life. Samsung Galaxy Gear combines smart device connectivity, tailored technological features, and stylish design as a single premium accessory".
In other words, it is a smart-watch that works in conjunction with a Samsung Galaxy Android device -- connected by Bluetooth. However, the device must be running Android 4.3. Of course, this will include the Galaxy Note 3 which was announced today.
Samsung highlights the following apps for the watch:
Atooma is a contextually aware horizontal intelligence platform that makes your Galaxy Gear smarter.
Banjo gives you the power to see what's happening right now, anywhere in the world
Evernote watch app makes it easy to remember things by quickly capturing images and memories and bringing important reminders right to Galaxy Gear.
Glympse allows people to easily share their location temporarily and in real-time, letting recipients see their movements on a dynamic map.
eBay app allows you to complete all your transactions on eBay with ease and in real-time.
Line is a global messaging service available in over 230 countries worldwide.
MyFitnessPal tracks your nutrition and exercise, empowering you to achieve your personal health and fitness goals.
Path is the personal network designed to bring you closer to your friends and family.
Pocket, the leading way to save web content to view later on any device, brings text-to-speech article playback to Galaxy Gear.
RunKeeper is the personal trainer in your pocket, helping you track your runs, set your goals, and stay motivated.
TripIt from Concur makes it easy to organize travel plans in one place.
Vivino Wine Scanner allows you to take a photo of any wine and get to know all about it instantly.
Sadly, the watch will only accommodate 10 apps at a time. This is puzzling and disappointing as memory is very inexpensive as of late and Samsung is a memory manufacturer. Limited storage space on any device in 2013 is a faux pas.
The watch can be interfaced through voice and touch commands. This will allow the user to do things like hands-free calling without removing a phone from their pocket.
Speaking of not pulling the phone from your pocket, surprisingly, the watch has its own dedicated 720p camera. I was impressed by the Moto X's screw-driver motion to launch a camera because it allowed the user to take pictures faster than ever. However, Galaxy Gear trumps the Moto X in this regard -- not having to pull a phone out at all is faster. The watch can then transfer photos to the associated smartphone.
It remains to be seen if smart-watches will be popular with consumers. Having yet another gadget to charge daily may be pushing the limits. At BetaNews, some members of the staff hate the idea, while others like it.
While I will reserve judgement until trying it, I can guarantee I will not purchase a watch that ties me to a specific brand of phone. Samsung is a wonderful Android manufacturer, but until it opens this watch to all Android phones, the Galaxy Gear can kiss my Galaxy rear. Now, where is my Tetris watch?