Microsoft: Surface 2 and Pro 2 'close to selling out' -- but are they really?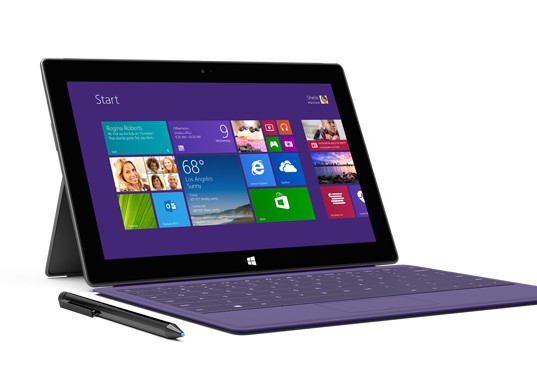 While we don't have any accurate sales figures regarding the original Surface Pro, we do know that the slate's cut down sibling, Surface RT, tanked badly on launch, forcing Microsoft to slash the price in an effort to shift at least some of the huge amounts of stock it was left sitting on.
But rather than give up on Surface, last Monday Microsoft announced new versions of its RT and Windows 8 Pro devices and, according to the tech giant, these new models are doing much better, with pre-order stock of the Surface 2 (64GB) and Surface Pro 2 (256 GB and 512GB) "close to selling out".
This revelation follows news that the pre-order stock of the Arc Touch Mouse Surface Edition, Type Cover 2 in Purple and Black, and Touch Cover 2 has already sold out in the US.
While this sounds great on the surface (pun intended), it isn't proof that Microsoft has a hit on its hands this time around. If it only made ten devices available and sold one of them, the stock would be "close" to selling out. Without context -- knowing how many Surfaces were made available for pre-order -- it's impossible to say the tablet is selling well.
While this new announcement shows (or appears to show at least) the company is being much more prudent this time around regarding the number of devices in the channel, it also hints at something else.
In his Don't be an Apple fool story a fortnight ago, my colleague Joe Wilcox wrote the following regarding 5s supplies being greatly limited:
In business perception is everything, and supply shortages generate blogs and news stories and the appearance that the product is super hot-in-demand. No preorders and buzz about coming supply shortages should get people to stores, standing in line -- a phenom not really seen since iPhone 4. Waiting lines -- longer the better -- create perception a product is wanted and result in more blogs, news stories and social network shares.

One drawback of preorders: Lines outside Apple and cellular carrier stores are shorter, resulting with each new launch boundless online punditry about how iPhone demand just isn't what it once was. Given how little substantively is changed between iPhone 5 and 5s -- and Apple's experiences with 4s and 5 launches -- I see changing tactics: Restricting preorders to get people to stores. Granted, iPhone 5c is available for preorder, but that's a new product for which Apple needs sales. For 5s, buzz is more important.
In declaring the Surface 2 and Surface Pro 2 close to selling out Microsoft will be hoping to create a similar degree of buzz. In fact, in its blog post the Surface Team says the time to buy is "now", and adds: "If you're reading this blog you're likely a Surface fan, so we want you to know we have limited availability. You should pre-order now to ensure getting the products you want on Oct. 22".
Microsoft then explains how to go about pre-ordering, in an effort to try and guarantee the limited pre-order stock does indeed sell out, so it can crow about demand outstripping supply and give people the "appearance that the product is super hot-in-demand".
If you try and pre-order any of those "close to selling out" devices now, you'll find you can currently do so with ease, but don't be surprised if one or more capacities of the Surface 2 or Pro 2 suddenly goes out of stock as the launch date nears and Microsoft starts talking about "great demand".
Given how badly the original Surface did, Microsoft needs to generate as much positive press for its new line as possible, to avoid it suffering the same fate.